Secretary Perdue Discusses Trade Aid, while Trade Talks with China Show Little Progress
Reuters writer Hugh Bronstein reported on Saturday that, "U.S. farmers could receive cash payments from a planned $12 billion aid package as soon as late September, U.S. Agriculture Secretary Sonny Perdue told Reuters on Saturday, warning that the program will not make tariff-hit farmers whole.
"Perdue said in an interview on the sidelines of the G20 meeting of agriculture ministers in Buenos Aires that the plan would include between $7 billion and $8 billion in direct cash relief."
The Reuters article pointed out that, "The aid plan, a response to retaliatory trade measures on U.S. farm exports, is intended only for the current crop cycle, he said. 'It's for the 2018 crop. We do not expect to do this over a period of time,' Perdue said."
'We expect the checks to go out in late September or October. As soon as they prove their yields,' Perdue said. 'They will be based on actual production, not historical averages.'
Also Saturday, Bloomberg writer Jonathan Gilbert reported that, "U.S. farmers will become eligible by September at the earliest for the first payments of a $12 billion subsidy program designed to shield them from a burgeoning trade war starting, Agriculture Secretary Sonny Perdue said.
"'The mitigation payments will be eligible in September in some degree and into October and the fall,' Perdue said on the sidelines of an event at the U.S. Embassy in Buenos Aires. 'It depends on when the farmer comes in and applies.'"
The Bloomberg article stated that, "The U.S. soybean harvest is from September to November. Money for the payments will be tapped from programs already authorized by the U.S. Department of Agriculture, Perdue said. The subsidies would be for the 2018 crop season only because farmers couldn't have foreseen current global trade feuding when they planted. In 2019, he added, growers won't need the help as they'll adapt their sowing plans to market conditions."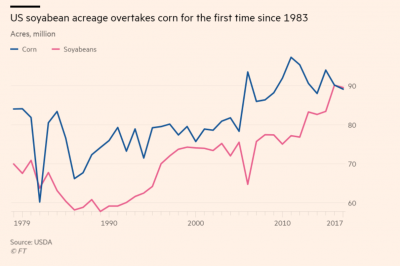 In a related article, Washington Post writer Caitlin Dewey reported in Tuesday's paper that, "President Trump has committed $12 billion to protect American farmers hurt by his trade war, setting off a political firestorm over trade policy.
But growers of soybeans — the single largest agricultural export to China, worth $12.4 billion — have largely escaped financial damage thus far, raising questions about the purpose and timing of the bailout, say economists, commodity traders and farmers.
The Post article explained, "While soybean prices have plummeted in recent months as China slapped tariffs on $45 billion of U.S. goods, the complexity of the markets where they are sold has insulated many growers from financial harm in the short-term."
Ms. Dewey noted that, "Soybean growers have been cushioned by the widespread use of forward contracts that allowed many to lock in high prices last spring, and analysts predict they will be buoyed at harvest by strong global demand for soybeans.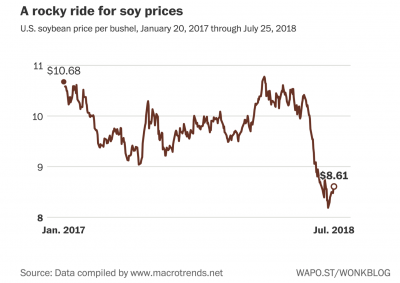 "The situation is similar for grain and oilseed crops, as well as pork, which was also hit by Chinese tariffs but enjoyed year-high prices in May and June."
Tuesday's article pointed out that, "Brazil, the second-biggest producer, is expected to exhaust its supply of exportable soybeans at the end of September. That, together with a recent USDA crop report that forecast this year's U.S. harvests will be smaller than expected, has already begun boosting prices.
"'The U.S. will be the only real source of soybeans in the world' by this October, [Arlan Suderman, chief commodities economist at the advisory firm INTL FCStone] said. 'I would expect to see prices come up well before then.'"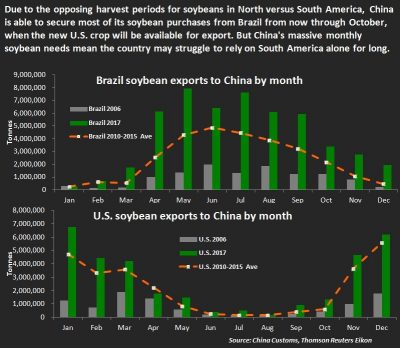 Meanwhile, Bloomberg writers Jenny Leonard, Peter Martin, Saleha Mohsin and Jennifer Jacobs reported Tuesday that, "The U.S. and China are trying to restart talks aimed at averting a full-blown trade war between the world's two largest economies, two people familiar with the effort said.
"Representatives of U.S. Treasury Secretary Steven Mnuchin and Chinese Vice Premier Liu He are having private conversations as they look for ways to reengage in negotiations, according to the people who spoke about the deliberations on condition of anonymity.
"They cautioned that a specific timetable, the issues to be discussed and the format for talks aren't finalized, but added there was agreement among the principals that more discussions need to take place."
CBOT Nov #soybeans are ~89 cents/bu off the July 16 low this morning and up around 22 cents from yesterday on news that the U.S. and China are seeking to restart trade talks to avert a full-blown trade war (reported by Bloomberg). pic.twitter.com/9pJvJojnUw

— Karen Braun (@kannbwx) July 31, 2018
The article noted that, "The next wave of U.S. tariffs is set to kick in as soon as Wednesday, with the possible imposition of duties on another $16 billion of Chinese imports. The implementation could be delayed for weeks as the administration works out the details of which products it will target. Officials in Beijing have vowed to respond with the same amount of tariffs on U.S. products."
Also Tuesday, Wall Street Journal writers Bob Davis and Lingling Wei reported that, "Treasury Secretary Steven Mnuchin and Chinese envoy Liu He and their staffs continue to talk about a possible meeting, said officials in both capitals, but the talks remain at a very preliminary stage. Both sides argue that it is up to the other to make the first move after several preliminary Chinese offers, mainly involving the purchase of more U.S. goods, were rejected by President  Trump as inadequate."
The Journal writers indicated that, "The two sides have agreed that their initial offers weren't a solid base for further negotiations, according to a senior member of the U.S. business community tracking the discussions. Those included the Chinese offer to buy more U.S. exports, and the U.S. demand that China essentially scrap the industrial policy that turned it into an economic powerhouse, the senior executive said."
And from an electoral perspective, USA Today writer John Fritze reported earlier this week that,
As goes the soybean harvest, so could go control of Congress.
"One-third of the nation's most contested House districts are home to major soybean farms, primarily in the Midwest, a USA TODAY analysis shows. President Donald Trump performed strongly in that region in 2016, but the area is now girding for a substantial harvest-time blow from his tariffs, just before voters head to the polls Nov. 6."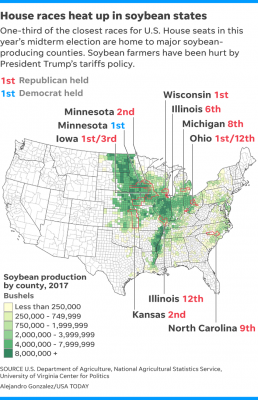 The USA Today article added, "The lack of progress on trade deals with China – evidenced in part by the president's repeated pleas for farmers to remain patient – has made it harder for U.S. pork producers and soybean farmers to sell their products."