Trade War Begins, as U.S. Soybean Exports Surged in the Second Quarter
Don Lee reported on the front page of Saturday's Los Angeles Times that, "The tariffs that the United States and China slapped on each other's exports Friday intensified a trade battle that has a strong risk of roiling financial markets, chilling consumer confidence and seriously harming the global economy.
"After President Trump followed through on his threat to apply 25% levies on $34 billion of Chinese products, mostly machinery and industrial parts, Beijing accused the United States of 'launching the largest trade war in economic history.' It fired back with dollar-for-dollar tariffs mainly on American farm products and other foods."

Mr. Lee explained, "Soybeans topped the list of newly taxed items— and they illustrate how deeply U.S. and Chinese producers and consumers have come to depend on each other.
"Some ships from the Pacific Northwest bound for China with tons of soybeans have already been rerouted to Europe or Southeast Asia, analysts here [Shanghai] said. Chinese officials, meanwhile, have been pulling out all the stops to encourage domestic farmers to plant more soybeans, so far with mixed results.
'China needs soybeans, and the U.S. needs the Chinese market,' said Jiang Boheng, an analyst with Luzheng Futures Co. in eastern China's Shandong province. 'It's a lose-lose situation.'
Saturday's LA Times article pointed out that, "But starting Friday, U.S. soybeans entering China face an extra 25% tariff on top of the 3% duty assessed on all imported soybeans. The threat of tariffs already has cost American farmers as soybean prices have fallen and Chinese orders have virtually stopped in recent weeks.
"Instead China has been buying more from Brazil and Argentina, among other sources. And on July 1, Beijing dropped the 3% duty for soybean imports from Bangladesh, India, Laos, South Korea and Sri Lanka, to encourage those countries to export more to China."
Mr. Lee noted, "At the same time, government officials in China's northeast Heilongjiang province, the heart of China's soybean production, have doubled subsidies to farmers for replacing corn with soybean, to make up for the anticipated shortfall as American supplies shrink.
"Corn has been much more profitable, while soybeans have been a break-even or money-losing crop in recent years. And for some farmers, the government's push for more soybean planting wasn't exactly welcomed."
Meanwhile, Wall Street Journal writer Paul Kiernan reported on Friday that, "U. S. soybean exports surged in the second quarter, delivering an outsize boon to economic growth even as China shifted much of its sourcing to Brazil in response to its worsening trade relations with the U.S.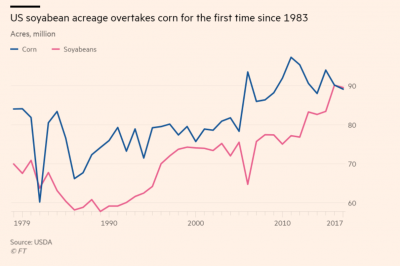 "The value of soybean exports nearly doubled in May from April to a seasonally adjusted $4.14 billion, driving the U.S. trade deficit to its narrowest margin since October 2016, the U.S. the Commerce Department said Friday. Weekly data on grain shipments from the Agriculture Department show export volumes may have been even stronger during much of June."
Nonetheless, the Journal article indicated that, "The surge, which did little to ease farmers' pain amid a downturn in prices, shows how global trade is shifting in the face of tit-for-tat sanctions between the world's two largest economies."
Mr. Kiernan added, "In May, the first full month after China announced its plan of targeting U.S. soybeans with tariffs, Brazilian soybean exports to China rose 17% from a year earlier to 9.8 million metric tons, even as a strike by truckers paralyzed transport in the nation for more than a week. Brazilian shipments in June were 25% higher than year-ago levels at 8.2 million tons."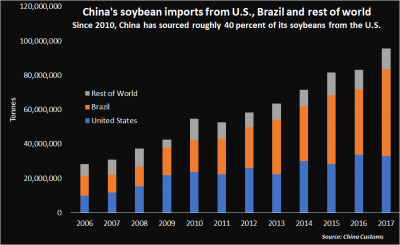 "'This is just one way trade flows are changing' in anticipation of the tariffs, said Rajesh Singla, global head of agricultural commodities research at Société Générale in India," the Journal article said.
And Bloomberg writer Megan Durisin reported Friday that, "Soybean futures, which had been plummeting over the past month as the U.S. inched closer to a trade war with China, posted a record move higher on Friday as the promised tariffs were finally imposed.
"While purchases have slowed from China, the world's biggest importer, American soybeans got so cheap that other countries have started to increase purchases, U.S. government data show.
Futures for November delivery climbed 4.5 percent to $8.945 a bushel on Chicago Board of Trade, the biggest gain since the contract began trading in late 2014.  The day before, it had touched its lowest ever after tumbling 17 percent since the end of May.
Also Friday, Kris Maher reported at The Wall Street Journal Online that, "Mayors in the Midwest's soybean belt said Friday that retaliatory tariffs by China threaten cities that rely heavily on the commodity, and they urged the Trump administration to reconsider trade policies they said are already hurting their communities."
And from a political perspective, Ryan Matheny reported on Friday at KMA Radio Online (Shenandoah, Iowa) that, " Iowa Senator Joni Ernst is telling farmers to 'hold on' while the Trump Administration works to normalize trade relations with a number of partners."
"'I have told the president time and again 'trade, not aid," said Ernst. 'We don't need anymore welfare programs, especially for our farmers. What we want to do is to allow our farmers and ranchers to grow and produce, but open up those new markets. We need to get our goods out there and get them sold.'"
The update added, "Ernst says she also hopes to continue to utilize U.S. Ambassador to China Terry Branstad — the former governor of Iowa — in smoothing relations with our largest trading partner."