New NAFTA: USMCA (U.S.-Mexico-Canada Agreement)
Wall Street Journal writers Jacob M. Schlesinger, Kim Mackrael and Vivian Salama reported Monday that, "The U.S. and Canada reached a dramatic, last-minute deal late Sunday night on revising the North American Free Trade Agreement, lifting a cloud of uncertainty over the quarter-century-old continental commercial bloc."
"The accord restores—for now, at least—harmony with two neighbors that Mr. Trump has repeatedly criticized in public, paving the way for him to hold a late-November signing ceremony with Canadian Prime Minister Justin Trudeau and Mexican President Enrique Peña Nieto," the Journal article said.
With respect to agriculture, Bloomberg writers Josh Wingrove, Jenny Leonard, and Eric Martin reported Monday that,
As part of the deal, the U.S. is getting expanded access to Canada's protected dairy market, long a thorn in the side of trade talks.
"Canada will eliminate its so-called Class 7 milk pricing system, a senior U.S. administration official told reporters. New measures will prevent Canada's system from spilling outside its borders, while market access for the U.S. will exceed Canada's concessions in Trans-Pacific Partnership talks, the U.S. official said. Canada gave up 3.3 percent of its market in those TPP talks, but the U.S. has since quit the deal."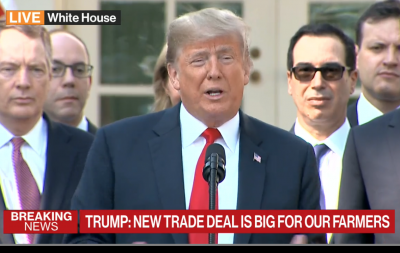 Wall Street Journal writer William Mauldin reported Monday that, "U.S. dairy farmers got what they asked for with Canada agreeing to drop its complex 'Class 7' quota and pricing system, which limited imports of certain dairy products from the U.S. That is likely to win praise from lawmakers from milk-rich U.S. states, but it could have political ramifications in Canada."
Mr. Mauldin added: "Farmers and agribusinesses welcomed the agreement, as it would likely preserve tens of billions of dollars in farm goods traded annually across the countries' borders. It also should prompt the U.S., Canada and Mexico to each remove tariffs on one another's products that have hurt U.S. prices for pork, cheese and other foodstuffs. Mexico and Canada have become critical pillars of demand and supply for the U.S. food and agriculture industry since Nafta took effect in 1994."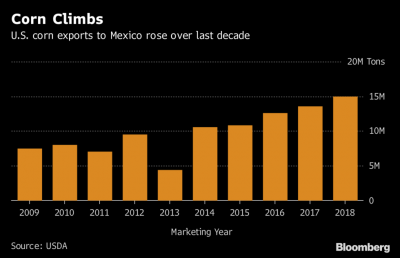 Also Monday, Bloomberg writer Shruti Singh reported that, "U.S. corn farmers such as Aron Carlson in northern Illinois can breathe easier thanks to the renegotiated North American Free Trade Agreement.
"'I am happy they are getting something done,' Carlson said from a semi-truck on Monday as he was delivering corn to a local buyer. 'It does give me some reassurance. It's been a struggle.'"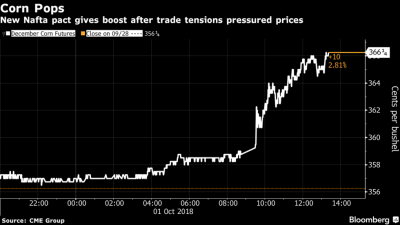 "The accord alleviates the risk that Mexico, the biggest importer of U.S. corn, will turn to competing exporters such as Argentina," the Bloomberg article said.
Ms. Singh added: "Soybean futures also advanced on optimism that the Nafta negotiation could herald more U.S. trade deals, especially with China, the world's biggest buyer of the oilseed. China has shunned U.S. shipments amid the trade war and has increased purchases from Brazil and other countries."
Meanwhile, Wall Street Journal writer Jacob Bunge reported Monday that, "Farmers and agribusinesses welcomed the agreement on a new North American trade pact, easing fears that the Trump administration's tough negotiating strategy could deepen economic struggles in the U.S. heartland."
The Journal article pointed out that,"The prospect of a new North American trade pact, along with a new U.S.-South Korea free-trade agreement signed last week, 'represent welcome momentum during what has been a challenging year,' said Jim Heimerl, president of the National Pork Producers Council."
On the other hand, Bloomberg writers Jen Skerritt and Josh Wingrove reported Monday that, "Canadian dairy farmers say they're on the losing end of a new trade pact with the U.S. that will allow Americans to ship more milk north.
"The new deal, which also includes Mexico, will give the U.S. greater access to Canada's protected dairy market and eliminate its new milk pricing system, one that's been repeatedly attacked by President Donald Trump. Dairy was one of the core remaining hurdles to striking a renewed North American Free Trade Agreement and Prime Minister Justin Trudeau had vowed to defend the nation's restricted sector. Trudeau pledged to compensate farmers to cushion the blow."
The U.S. Trade Representative's (USTR) Office released a "Fact Sheet" Monday detailing some of the key agricultural aspects of the new agreement: Strengthening North American Trade in Agriculture.
And, the USTR also released a separate "Fact Sheet' Monday titled:  Market Access and Dairy Outcomes of the USMC Agreement.