China Halts U.S. Soybean Purchases, While USMCA Prospects Unfold Under a new Threat of Tariffs on Mexico
Today's update reviews recent news articles that highlight two important trade issues impacting U.S. farmers: China's imports of U.S. soybeans, and the likely ratification of the USMCA Agreement with Canada and Mexico. President Trump added a wrinkle to the USMCA issue Thursday evening by threatening to implement escalating tariffs on all Mexican imports beginning June 10.  Recall that Canada and Mexico are the two largest U.S. agricultural export markets, while China ranks fifth.
China Trade Developments
Bloomberg News reported on Thursday that, "China, the world's largest soybean buyer, has put purchases of American supplies on hold after the trade war between Washington and Beijing escalated, according to people familiar with the matter.
"State-grain buyers haven't received any further orders to continue with the so-called goodwill buying and don't expect that to happen given the lack of agreement in trade negotiations, said the people, who asked not to be named because the information is private. Still, China currently has no plans to cancel previous purchases of American soybeans, the people said."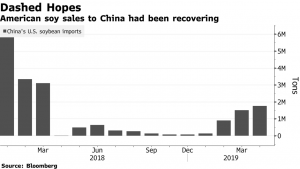 The article added that, "President Donald Trump escalated his trade war with China earlier this month, ramping up tariffs on about $200 billion of Chinese goods, prompting Beijing to retaliate with further duties of its own. Trump and his counterpart Xi Jinping are expected to meet again at the end of June for the G-20 summit, when some analysts predict a potential resolution."
"There are signs China is replacing U.S. soybeans with Brazilian supplies. The premium paid for soybeans loading at Paranagua port more than doubled over the past month as the pace of exports has accelerated in the past weeks," the article said.
Earlier this week, Wall Street Journal writers Bob Tita and Austen Hufford reported that, "Tariffs and trade tensions are pushing makers of U.S. farm-equipment into a deeper ditch.
"Deere & Co., CNH Industrial NV and other makers of the tractors and combines used to plant and harvest American crops are already facing weak demand from farmers as a result of a five-year slump in the agricultural economy.
More specifically with respect to action in the U.S. Congress, New York Times writers Glenn Thrush and Ana Swanson reported on Wednesday that, "Speaker Nancy Pelosi is resisting pressure from the Trump administration to quickly approve an updated North American trade deal and is telling lawmakers and union officials that a planned study of the agreement could drag on well into the fall, people familiar with the situation said."
"But Ms. Pelosi's escalating fight with President Trump, which erupted last week over the issue of impeachment, has soured many Democrats on doing anything that could possibly help the president. The war of words culminated with Mr. Trump calling Ms. Pelosi 'Crazy Nancy' and 'a mess' for lacking the intellect to comprehend the trade deal."
The Times article noted that, "Ms. Pelosi has said privately that she is convinced the agreement can be approved — 'I can get to yes' she told a supportive lawmaker last week — even if that would hand Mr. Trump with a much-needed domestic policy achievement ahead of his re-election campaign.
But the president's slight, in that it was a factor at all, only reinforced Ms. Pelosi's resolve to extract significant revisions to the accord as a precondition of holding a floor vote, and those changes could require a renegotiation of the updated North American Free Trade Agreement, which the three countries agreed to last year.
Thrush and Swanson added that, "During a meeting at the Capitol this month, Ms. Pelosi told Robert Lighthizer, the United States trade representative, that she planned to create four House task forces to examine key components of the agreement, including labor standards, environmental issues, pharmaceuticals and the creation of a verifiable enforcement mechanism to hold Mexico accountable for promised changes to labor laws and other provisions in the deal."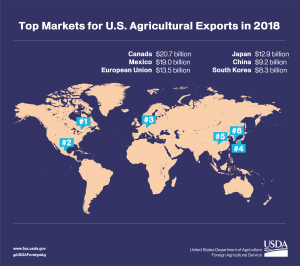 Bloomberg writers Jenny Leonard and Erik Wasson reported on Thursday that, "Democrats are still holding out hope they can sculpt the new Nafta to their liking despite the acrimonious debate over whether to impeach Donald Trump and the president's personal attacks on House Speaker Nancy Pelosi.
"An exchange of insults between Pelosi and Trump after a scuttled White House infrastructure meeting last week, and the ongoing debate among House Democrats whether to impeach the president, have fanned doubts about whether the two sides can cooperate enough to pass the U.S.-Mexico-Canada Agreement — Trump's most urgent legislative priority as he heads into 2020 elections.
"Democratic lawmakers and their aides say both parties can look past the squabbling to reach a deal that can pass the Democratic-controlled House. Still, they are urging the White House to speed up collaboration and start addressing their concerns to get a vote on the agreement by year-end, which is the goal for Trump's team."
The Bloomberg article also pointed out that, "The risk for Democrats is that Trump may follow through on his threat to withdraw from the original Nafta, a scenario that would increase tariffs across the continent."
In a separate Bloomberg article later on Thursday, Leonard and Wasson reported that, "The Trump administration has formally notified Congress it's moving forward with its plan to get the new Nafta approved, a move that House Speaker Nancy Pelosi called 'not a positive step' as her party weighs whether to support the deal.
"White House officials submitted a so-called Statement of Administrative Action, a step toward introducing legislation that would bring the United States-Mexico-Canada Agreement into force. The move starts a minimum 30-day period for consultations between the White House and Congress to finalize the bill, before a vote can take place."
The article added that, "The Trump administration is 'making energetic efforts' to see Congress approve the deal 'this summer,' said Vice President Mike Pence on a visit to Ottawa on Thursday for discussions on advancing the pact with Canadian Prime Minister Justin Trudeau."
Threat of Tariffs on Mexican Imports
Louise Radnofsky, William Mauldin and David Luhnow reported on the front page of Friday's Wall Street Journal that, "President Trump said Thursday the U.S. would impose escalating tariffs on all Mexican imports beginning June 10, in an effort to push the country to deter the flow of asylum-seeking Central American families to the southern border.
"Reacting to what he described as 'Mexico's passive cooperation in allowing this mass incursion,' the president said the tariff on America's third-largest trading partner would begin at 5% and grow steadily, hitting 25% on Oct. 1 unless Mexico takes satisfactory action to halt the migrants."
The Journal article stated that, "'This is a misuse of presidential tariff authority and counter to congressional intent,' said Sen. Chuck Grassley (R., Iowa), chairman of the Senate Finance Committee. 'I support nearly every one of President Trump's immigration policies, but this is not one of them.'"
Friday's article cautioned that, Business groups voiced alarm at the tariff plans, which they say could harm current and future trade agreements between the two countries and lead to retaliation against U.S. farm products and manufactured goods in the North American supply chain."
Radnofsky, Mauldin and Luhnow added that, "The U.S. agricultural sector over the past year has endured lower crop prices and commodity-market swings driven by trade disputes. Farmers have been counting on the USMCA trade deal bringing stability, said a spokesman for the American Farm Bureau Federation. 'New tariffs would only serve to cloud that trade horizon,' he said."