Multiple Dynamics at Play as Observers Assess Trade One Commitments by China
Bloomberg writer Isis Almeida reported last week that, "Crop traders obsessing over the deadly coronavirus in China may be overlooking another key challenge to the Trump administration's phase one trade deal: the U.S. dollar.
"The virus's spread is upending supply chains and cutting food demand in China, delaying billions of dollars in American sales of everything from pork to soybeans. Making up for the losses later in the year may be difficult if the dollar continues to strengthen against currencies in Brazil and Argentina, two of the U.S.'s top agricultural rivals."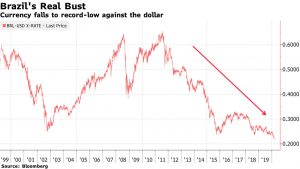 The Bloomberg article noted that, "Traders were already skeptical China would reach the phase one targets before the virus hit. Even the U.S. Department of Agriculture's own export projections cast doubt on the deal.
Now, with the Brazilian real and the Argentine peso hitting record lows against the dollar, the trade-deal targets are even more in doubt.
"For now, U.S. authorities are dismissing the currency threat," the Bloomberg article said.
USA shipped $1.49 billion worth of Ag + Related Products to #China in January, up 52% from Jan 2019 but other than that, an 11-year low. The chart also shows the % of annual that Jan exports accounted for. If 2020 is $36.5B, that puts Jan at 4%, historically very low. pic.twitter.com/TdNGPup73U

— Karen Braun (@kannbwx) March 6, 2020
Also last week, Reuters writer Tom Polansek reported that, "U.S. Agriculture Secretary Sonny Perdue on Wednesday predicted China will come into the U.S. market for soybeans in late spring and summer, after Beijing in January promised to buy more American farm goods as part of an interim trade deal.
"Major Chinese purchases of U.S. agricultural products have not yet been seen, increasing doubts among traders and farmers that Beijing will follow through on its pledges."
"'This time of year they buy soybeans from Brazil. We think they'll come into this market in late spring and summer and fulfill the commitments,' Perdue said in testimony before Congress."
Meanwhile, Bloomberg writer Marvin G Perez reported on Thursday that, "American cotton growers just had their best export sales week in a year, thanks partly to China making good on its commitments under the phase-one trade accord with the U.S.
"In data that may help allay fears of demand destruction caused by the coronavirus outbreak, the U.S. Department of Agriculture reported export sales of upland cotton jumped to about 396,000 bales in the week ended Feb. 27. That's up 84% from a week earlier."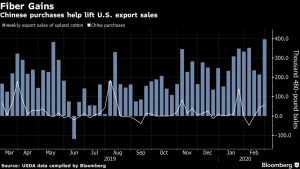 With respect to other signs of trade facilitation maneuvers by China, Reuters writer Tom Polansek reported last week that, "U.S. chicken products are entering China without retaliatory tariffs after Beijing made poultry eligible for exemptions to the extra duties, shippers and an industry group said on Thursday.
"The additional tariff relief may help China follow through on pledges to significantly increase purchases of American agricultural goods as part of an initial trade deal signed in January. U.S. chicken company Tyson Foods Inc said it had already seen chicken shipments rise as a result."
The Reuters article pointed out that, "Global meat and poultry suppliers are competing for sales to China, where an outbreak of the fatal pig disease African swine fever has shrunk the hog herd by more than 40% and raised the need for imports."
In a related article, Bloomberg writer Tatiana Freitas reported last week that, "The impact of the coronavirus outbreak on China's eating habits may increase demand for imported meat, further improving prospects for overseas suppliers, according to one of the largest chicken exporters.
"Beijing's ban on trading wild animals may widen a protein gap left by African swine fever, BRF SA Chief Executive Officer Lorival Luz said after the company reported its first profit in four years thanks to surging exports and improving operations in Brazil."
In a further sign of strong Chinese demand for protein, Bloomberg News reported last week that, "China's piglet prices surged to a record as farms snap up already-tight supplies to rebuild hog herds that were destroyed by African swine fever last year.
"Average national piglet prices surged to 126 yuan ($18.11) per kilogram on Thursday, according to Shanghai JC Intelligence. That means a 17-kilogram piglet, the typical weight for the animal when they're sold, would cost more than $300, up from about $97 in 2017, before swine fever broke out in China."
On the other hand, Wall Street Journal writers Jesse Newman and Jennifer Smith reported on Thursday that,
The coronavirus epidemic is upending the carefully calibrated logistics of global shipping, as plunging exports from China disrupt the trade of American goods, especially farm products such as fruit and meat destined for Asia.
"Congestion at Chinese ports and interrupted sailings have squeezed space on China-bound vessels and created an imbalance of the 40-foot long refrigerated containers used to ship fruit, meats and other perishables on three-week voyages across the Pacific, with many stuck on the China side."
Beyond the dynamics of protein, Reuters writers Hallie Gu and Naveen Thukral reported on Friday that, "China has granted tariff exemptions for some crushers to import U.S. soybeans, five sources told Reuters, in line with a plan it announced in February, aiming to fulfill commitments under its Phase 1 trade deal with the United States.
"The exemption, which will take effect from the day of issue, will be valid for a year, sources briefed on the matter said."
The Reuters article noted that, "China has also granted tariff exemptions for some importers to buy U.S. sorghum, wheat and distillers' dried grains (DDGs), among products on its list, traders said."
Also Friday, Bloomberg writers Max Reyes and Rich Miller reported that, "President Donald Trump's top economic adviser Friday admitted that the White House may need to roll out a series of steps to protect the U.S. economy from coronavirus fallout after days of playing down the potential risks."
The Bloomberg writers noted that, "Pressed on details of any plan, Kudlow said such measures could include help for individuals forced to stay home and lose pay, small businesses, and certain industries such as airlines and agriculture hit by the virus."
And on Sunday, Bloomberg News reported that, "The U.S. is willing to show China some flexibility on its pledges to boost American imports as long as Beijing ensures exports don't surge when production returns to full strength and widen the trade imbalance between the world's two largest economies, people familiar with the discussions said.
"Given Beijing's focus on containing the coronavirus outbreak and the country's lagging demand for American imports, U.S. officials have told their Chinese counterparts that the purchasing boost, signed in January with specific target dates and commodities, could start off slowly, according to people in Washington and Beijing with knowledge of the discussions.
"But that understanding comes with some conditions, according to these people. The Trump administration has made clear that this is only an option as long as there isn't a jump in Chinese exports when virus-related industrial shutdowns end."