Chairman of Tyson Says Food Chain is "Breaking," While President Trump Orders Plants to Remain Open
Financial Times writer Gregory Meyer reported this week that, "The largest US meat company has warned of shortages for consumers, saying the country's complex food chain was 'breaking' as Covid-19 spreads to refrigerated packing plants.
Tyson Foods has shut down three slaughterhouses and partially reopened a fourth in the past week as it tests workers for coronavirus. Almost a third of US pork processing capacity and 14 per cent of beef capacity is now offline as the disease sweeps through the densely staffed cutting floors of packing plants, agricultural economists say.
"John Tyson, Tyson's chairman, said American grocery stores would have sparse meat selections until its plants came back. 'As pork, beef and chicken plants are forced to close, even for short periods of time, millions of pounds of meat will disappear from the supply chain,' he wrote in a letter published in three US Sunday newspapers."
The FT article explained that, "Supermarket meat cases were sometimes depleted as consumers stocked up in advance of government-decreed lockdowns in March, but meat supplies remained steady. The US produced 5bn lbs of red meat last month, up 13 per cent from a year before, according to the US Department of Agriculture.
"
Slaughter totals have since plummeted
as plants close down or slow their line speeds to account for Covid-19 tests and sick workers.
On Friday
, US packing plants killed 83,000
cattle
,
down by more than a quarter
from 114,000 a year before, and 361,000
pigs
,
down almost 20 per cent
from 449,000 a year ago the USDA reported."
And DTN Ag Policy Editor Chris Clayton reported this week that, "Tyson's letter came as the federal government over the weekend began getting more engaged with the challenges facing meatpackers and their workers. On Sunday, the Centers for Disease Control (CDC) and the Occupational Safety and Health Administration (OSHA) released a 'joint coronavirus-related interim guidance' for the packing industry to reduce the risks of work-related infections for those essential workers."
Reuters writer Jan Wolfe reported this week that, "The U.S. Labor Department issued new guidelines on Sunday for U.S. meatpacking and meat-processing plants that have seen a rash of coronavirus outbreaks, saying employees should be spaced at least 6 feet (1.8 m) apart and screened before they start working.
"The interim guidance from the Labor Department's Occupational Safety and Health Administration also recommended temperature checks and the wearing of cloth face coverings as a protective measure."
Yes - security of our food supply is critical, but workers' health must be the top priority. @USDA is working w/ @CDC on ways to protect workers & safely keep plants open across the U.S. I'm hopeful this can be addressed before shortages are felt by Americans at the supermarket. pic.twitter.com/DFwpWUHest

— Senator John Thune (@SenJohnThune) April 27, 2020
A separate Reuters News article this week reported that, "South Dakota's governor on Monday said she hopes Smithfield's Sioux Falls pork processing plant can reopen soon, a day after U.S. labor regulators urged the meat industry to adopt certain measures to prevent the spread of coronavirus among workers."
Meanwhile, Wall Street Journal writers Jacob Bunge and Kirk Maltais reported this week that, "The U.S. pork industry and agricultural regulators are discussing the prospect of euthanizing thousands of pigs, after coronavirus outbreaks closed major processing plants.
The industry typically slaughters around 510,000 pigs daily for bacon, hams and sausage. Covid-19 outbreaks among plant workers have forced closures of facilities that typically process roughly one-fifth of the daily total, or 105,000 pigs a day, leading to a backup on farms and raising the prospect of having to euthanize them and then render or bury the carcasses.
"'It's happening across the state,' said Mike Naig, agriculture secretary for Iowa, which produces about one-third of U.S. pork. 'It's not yet widespread, but there is widespread planning.'"
Today, NPPC Immediate Past-President David Herring joined Fox and Friends to discuss the impact of COVID-19 on the U.S. pork supply chain. David said, "We need the President to have our backs today. We need help." #PorkPriorities https://t.co/0Cnz5EHioh

— NPPC (@NPPC) April 26, 2020
The Journal writers pointed out that, "U.S. livestock and poultry production was high headed into the coronavirus pandemic, but meatpacking plants—reliant on human labor in sometimes tight quarters—have become bottlenecks for converting animals into food. With many restaurants closed, suppliers have been able to repurpose some restaurant-bound products for grocery store meat cases. But many cuts and varieties ordinarily sold in bulk quantities can't be packaged for sale in stores."
Reuters writers Tom Polansek and P.J. Huffstutter reported on Monday that, "With the pandemic hobbling the meat-packing industry, Iowa farmer Al Van Beek had nowhere to ship his full-grown pigs to make room for the 7,500 piglets he expected from his breeding operation. The crisis forced a decision that still troubles him: He ordered his employees to give injections to the pregnant sows, one by one, that would cause them to abort their baby pigs."
The Reuters article stated that, "As the United States faces a possible food shortage, and supermarkets and food banks are struggling to meet demand, the forced slaughters are becoming more widespread across the country, according to agricultural economists, farm trade groups and federal lawmakers who are hearing from farmer constituents.
"Iowa Governor Kim Reynolds, along with both U.S. senators from a state that provides a third of the nation's pork, sent a letter to the Trump administration pleading for financial help and assistance with culling animals and properly disposing of their carcasses."
The Reuters article also pointed out that, "The latest economic disaster to befall the farm sector comes after years of extreme weather, sagging commodity prices and the Trump administration's trade war with China and other key export markets. But it's more than lost income. The pandemic barreling through farm towns has mired rural communities in despair, a potent mix of shame and grief.
"Farmers take pride in the fact that their crops and animals are meant to feed people, especially in a crisis that has idled millions of workers and forced many to rely on food banks. Now, they're destroying crops and killing animals for no purpose."
In a broader look at the implications of the current dynamics of protein production, Associated Press writer David Pitt reported that, "Meat isn't going to disappear from supermarkets because of outbreaks of the coronavirus among workers at U.S. slaughterhouses. But as the meat plants struggle to remain open, consumers could face less selection and slightly higher prices."
Also, Financial Times writers Emiko Terazono and Gregory Meyer reported this week that, "The coronavirus pandemic is reshaping the US meat market, with sales of plant-based substitutes surging while closures of slaughterhouses and processing plants threaten production of the real thing.
"US sales of plant-based meat substitutes jumped 200 per cent in the week ending April 18, compared with the same period last year, and surged by 265 per cent over an eight-week period, according to consumer data group Nielsen. This compares with jumps of 30 per cent and 39 per cent respectively over the same periods for fresh meat.
"Though plant-based meat still accounts for a small portion of the US protein market, it has been rapidly growing in popularity in recent years — a trend that has been accelerated by the crisis, said Bruce Friedrich at the Good Food Institute."
Ana Swanson and David Yaffe-Bellany reported on the front page of Wednesday's New York Times that, "President Trump on Tuesday declared meat processing plants 'critical infrastructure,' in an effort to ensure that facilities around the country remained open as the government tried to prevent looming shortages of pork, chicken and other products as a result of the coronavirus.
"The action comes as meat plants around the country have turned into coronavirus hot spots, sickening thousands of workers, and after the head of Tyson Foods, one of the country's largest processors, warned that millions of pounds of meat would simply disappear from the supply chain."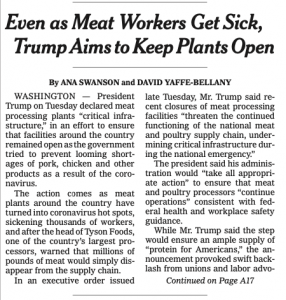 "In an executive order issued late Tuesday, Mr. Trump said recent closures of meat processing facilities 'threaten the continued functioning of the national meat and poultry supply chain, undermining critical infrastructure during the national emergency.'"
Pres @realDonaldTrump is right 2use authority 2 keep open meat processing plants Its critical infrastructure 4 country's food supply chain As saying goes society is 9 meals away from food riots Fed govt shld help w PPE&testing/plants need 2follow CDC&OSHA guidance 2protect wrkers

— ChuckGrassley (@ChuckGrassley) April 28, 2020
And Andrew Restuccia in Washington and Jacob Bunge reported on the front page of Wednesday's Wall Street Journal that, "The order directs Agriculture Secretary Sonny Perdue to take all necessary steps to ensure the continued operation of meat and poultry processing facilities. It will insulate them from state-level actions that Mr. Trump said have led to plant closures, and gives Mr. Perdue flexibility to include other food supply chain operations."
The Journal writers pointed out that, "Meat industry officials estimate about one-fifth to one-quarter of the U.S. pork-processing industry is shut down this week, and 10% for beef. White House officials said that they feared as much as 80% of the industry's processing capacity could have been shut down without action from the administration.
"Those shutdowns are cutting deeply into the U.S. meat supply. Beef production for the week ended April 25 was 24.5% lower than the same week a year ago, according to data from CoBank, an agricultural lender. Pork production fell 14.6%, and chicken 8.2%."