Trump Administration Announces Coronavirus Food Assistance Program, $19 Billion Relief Program for Agriculture
Wall Street Journal writers Andrew Restuccia and Jesse Newman reported on Friday that, "President Trump announced a $19 billion relief program for the agriculture sector, which has been hard hit by the coronavirus outbreak, turning to a playbook the administration has used in its trade fight with China.
The effort, called the Coronavirus Food Assistance Program, will include $16 billion in direct payments to farmers and ranchers and $3 billion in mass purchases of dairy, meat and produce that will be distributed through food banks.
"The U.S. Department of Agriculture 'will do everything in our power to implement this program as quickly and as efficiently as possible,' Agriculture Secretary Sonny Perdue said during a White House news conference Friday."
The Journal writers explained that, "The coronavirus pandemic has upended the U.S. food supply chain in recent weeks, slashing prices and demand for agricultural commodities as restaurants and schools sit closed, and disrupting food deliveries to grocery stores. Some farmers and food companies have ceased or slowed production as sales to restaurants and other providers evaporate. Stuck with huge quantities of food they can't sell, U.S. producers are plowing under thousands of acres of vegetables, dumping millions of gallons of milk and destroying chicken-hatching eggs."
Restuccia and Newman pointed out that, "The agriculture secretary said the department was using funds set aside under the recent coronavirus relief package, as well as money from the department's Commodity Credit Corporation program. He said the Commodity Credit Corporation, a Depression-era program designed to stabilize farm incomes, would need to be replenished this summer."
More specifically on funding, Sec. Perdue stated at the White House news conference on Friday that, "Since we wanted to get the payments out to producers as quickly as possible, we decided to use the funds in the CCC — the current funds of 6.5 million — billion dollars, combined with the 19.5 of COVID money, rather than wait for the replenishment of the CCC funds in July. Based on industry estimates of damage, Mr. President, it is becoming apparent that we'll need the additional CCC funds as we continue to track the economic losses."
And Reuters writers P.J. Huffstutter and Karl Plume reported on Friday that, "Funding for the immediate aid program will be pulled together from a number of sources, including recent coronavirus-related aid laws passed by Congress and other funding authorities that USDA has access to, according to Perdue.
'But going forward, he said, 'I anticipate we will need additional money.'
Meanwhile, Friday's Wall Street Journal article also noted that, "Outbreaks at meat plants have sparked growing worry about the nation's food supply within the Trump administration, though Mr. Perdue has sought to reassure Americans that the nation has enough food."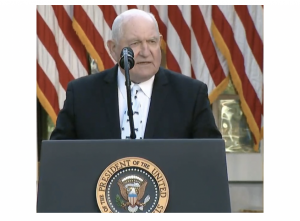 Bloomberg's Mike Dorning reported on Friday that, "The USDA will make direct payments of $5.1 billion to cattle producers, $2.9 billion for dairy and $1.6 billion for hogs, according to a statement from Senator John Hoeven, chairman of the Senate Agriculture Appropriations subcommittee.
"Another $3.9 billion will go to producers of row crops such as soybeans, corn and cotton, while $2.1 billion is earmarked for producers of specialty crops such as fruits and vegetables. And $500 million will go for other crops, Hoeven said."
The Bloomberg article noted that, "Though advocates had sought aid for ethanol producers, the package doesn't include any assistance for biofuels, Agriculture Secretary Sonny Perdue said in a conference call with reporters."
My guess is that row crop producers are going to be very unhappy with this allocation. Always a huge fight geographically among commodity producers over farm bill $$. Now adding livestock vs. row crops.

— Scott Irwin (@ScottIrwinUI) April 18, 2020
Also Friday, DTN Ag Policy Editor Chris Clayton reported that,
[Sen. John Hoeven's (R., N.D.)] news release stated farmers will receive one payment based on a formula detailing price losses from Jan. 1 to April 15, and paid on 85% of that price loss. Commodities eligible for the program must reflect at least a 5% price decline within that time. A second part of the formula involves projection of potential losses from April 15 through mid-October and farmers will be paid based on 30% of those expected market losses.
"Payments will be limited to $125,000 for each commodity with a $250,000 payment cap to an individual or entity. Perdue indicated there may not be a means test for farmer eligibility. 'This program is open to farmers and ranchers regardless of size if they have suffered a loss.'
"While announced late Friday, USDA will begin signup in early May and payments will start to be delivered later in May or early June."