China Reiterates Pledge to Implement Phase One Agreement
Bloomberg News reported yesterday that, "China reiterated a pledge to implement the first phase of its trade deal with the U.S. despite setbacks from the coronavirus outbreak, and as tensions escalate between the world's two biggest economies.
'We will work with the United States to implement the phase one China-U.S. economic and trade agreement,' Premier Li Keqiang told an annual gathering of lawmakers in Beijing on Friday. 'China will continue to boost economic and trade cooperation with other countries to deliver mutual benefits.'
The Bloomberg article stated that, "The centerpiece of the January agreement was China's promises to buy more U.S. goods and services, but even before the coronavirus hit analysts were questioning whether those targets were realistic. Now, with both Chinese demand and U.S. manufacturing and transport capacity down due to the virus — and prices falling for energy and other goods — those promises look even further out of reach.
"Chinese Vice Premier Liu He, and U.S. Trade Representative Robert Lighthizer and Treasury Secretary Steven Mnuchin earlier this month pledged to create favorable conditions for implementing the trade deal and cooperating on the economy and public health. But President Donald Trump said later in an interview that he is having 'a very hard time with China' and last week said the U.S. would 'save $500 billion' if it cut off ties with China."
#China also bought 153.6K RB of old-crop U.S. #cotton last week and 79.2K RB new-crop.

Total #sorghum sales (83.1kt in 19/20) were low relative to prior weeks, but incl. 131.5kt to China (incl. 116kt switched from unknown).

— Karen Braun (@kannbwx) May 21, 2020
And a joint news release yesterday from USDA and the U.S. Trade Representatives Office stated that, "[USDA] and [USTR] today announced additional progress in the implementation of the agriculture-related provisions of the U.S.-China Phase One Economic and Trade Agreement (The Agreement), which entered into force on February 14, 2020. Recent actions described below build upon the actions announced by USDA and USTR on February 25, March 10, and March 24. These are difficult times for both our countries. It is important that we each continue to work to make our agreement a success."
Yesterday's release pointed to additional details, including:
U.S. barley for processing, along with the forage products Timothy hay, alfalfa hay pellets and cubes, and almond meal pellets and cubes can now be exported to China. In 2019, China imported $1.5 billion of barley used as feed and for malt beverage production, and a record $500 million of forage products.
In recent weeks, China updated its lists of U.S. facilities eligible to export beef, pork, poultry, seafood, dairy, and infant formula products to China. China's lists now include 499 beef, 457 pork, 470 poultry, 397 seafood, and 253 dairy and 9 infant formula facilities. As a result of these actions, more U.S. facilities are eligible to export U.S. food and agricultural products to China than ever before. USDA's Food Safety and Inspection Service continues to update its export library, which provides additional guidance for U.S. meat and poultry meat exporters, including information related to the scope of products that may be exported to China, China's labeling requirements, and other guidance.
Meanwhile, Wall Street Journal writers Lucy Craymer and Anthony DeBarros reported earlier this week that, "China has significantly stepped up purchases of U.S. agriculture products in the past two months, according to U.S. officials, even as purchases in other sectors fall short of expectations under the first phase U.S.-China trade deal.
In the 10 weeks ended May 7, gross sales of U.S. corn and pork were up around eight times and cotton sales were three times higher than they were in the same period in 2017, before the start of the U.S.-China trade war. Soybean exports to China, the largest component of U.S. farm export receipts, rose roughly a third in the same period, according to the U.S. Department of Agriculture data.
"Chinese importers bought 1.19 million metric tons of corn, 1.17 million metric tons of cotton, 1.6 million metric tons of soybeans and 244,532 metric tons of pork in the past 10 weeks, according to the USDA data. In addition to this, the USDA has been notified of sales of roughly 730,000 metric tons more soybeans in the week since May 7, according to their releases."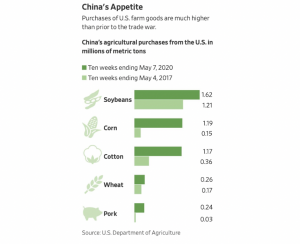 The Journal writers noted that, "And even as China buys more U.S. farm products, it isn't on pace to meet targets for purchases overall. Research from Peterson Institute for International Economics said under the agreement it was implied that Chinese imports would in 2020 be around $36.6 billion—or roughly $9.1 billion for the first quarter. In the first quarter, China's imports were just $5.1 billion, although the trade deal didn't go into effect until Feb. 14."
The Journal article added that, "While consumer demand in China has fallen because of the pandemic, Beijing is looking to meet its targets by boosting food stockpiles, revising the way managers of state-owned firms are judged to include meeting phase-one targets, and increasing economic growth as the pandemic eases, said the people."
And Reuters writers Florence Tan and Hallie Gu reported this week that, "A rare ethanol shipment of U.S. origin is expected to arrive in China this month, according to three industry sources and shipping data, probably the first such cargo since the two countries struck an initial trade deal in January.
"The market has been watching closely for signs of renewed trade in biofuel after China waived some additional tariffs on 696 American products, ethanol among them, to support purchases of U.S. farm goods, after the signing of the Phase 1 trade deal.
"Oil tanker SC Chongqing, which loaded a cargo of about 9,000 tonnes at Oman's Sohar port in April, is expected to arrive at Nanjing in eastern Jiangsu province on Friday, shipping data on Refinitiv Eikon showed."
The Reuters article added that, "One of the sources, who track ethanol trades closely, said the vessel was carrying ethanol that originated from the United States and had been resold to China.
"The second source said a Chinese importer had bought the cargo from a Saudi seller at a low price, but it was not immediately clear why the U.S. ethanol cargo was exported from Oman and if it will face China's import tariff."