On August Recess, Lawmakers Listen and Comment on Farm Bill
Today's update looks at recent news articles highlighting agricultural economic variables, as well as Farm Bill observations from lawmakers, and some of the ag related activities Members have held with constituents during the August recess.  Today's overview also includes observations from Bloomberg writer Alan Bjerga on the link between these current economic conditions and policy perspectives lawmakers may take back with them to Washington, D.C. when the Farm Bill debate gets more focused this fall.
Background
In a recent  interview with Jim Dewey on WTAD AM (Quincy, Il.) radio, Bloomberg writer Alan Bjerga explained how conditions in the farm economy can have an impact on lawmaker perspective with respect to the Farm Bill.
In part, Mr. Bjerga indicated that, "Well, the Farm Bill discussion is going to be heating up in earnest around the harvest time.  So there will be some more data coming in before it.  But what is happening right now, is it is the August Congressional recess.  And, so all of the Members of Congress are in their home districts and they are taking a look at what the conditions are now and they are hearing from their constituents based on now.
"So, when the discussion of the Farm Bill takes place, you going to have more information about the size of the crop, you are going to know more about the prices the farmers actually got for it, but as far as the words that are ringing in lawmaker's ears from their meetings and events with constituents that bring them back into Washington for it, it's actually the conversation that is going to be happening right now.
A lot of the debate that is going to happen this fall, the impressions that are being made coming into this debate are happening now with these numbers during this time of the season.
Farm Economy
With respect to news on the current state of the ag economy, Steve Jordon reported on Thursday at the Omaha World-Herald Online that, "With some areas bedeviled by drought, rural Midwestern bankers say their local economies are slumping and the outlook is negative, according to a Creighton University survey.
"Weak prices for farm products led to a Rural Mainstreet Index of 42.2, well below the growth-neutral point of 50 in the survey of 162 bankers from 10 states [Colorado, Illinois, Iowa, Kansas, Minnesota, Missouri, Nebraska, North Dakota, South Dakota and Wyoming]."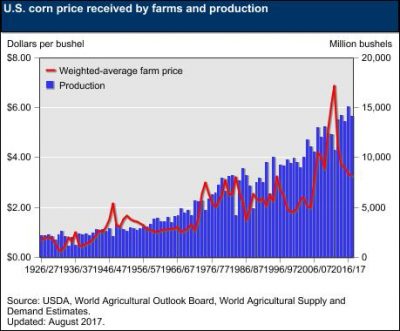 The article noted that, "[Creighton economist Ernie Goss] said 57.6 percent of the bankers said drought conditions were hurting crop production, on top of the low prices for grains."
Wall Street Journal writer Bob Tita reported on Friday that, "Equipment maker Deere & Co. continues to face a slog in a troubled U.S. farm economy."
"U.S. farmers have been reluctant to purchase new equipment as a multiyear slump in grain and livestock prices weighs on their incomes and buying power. Improving crop yields and forecasts for another bumper harvest this year foreshadow a fourth consecutive year of declining U.S. farm incomes," the Journal article said.
Meanwhile, an update on Wednesday by David Bau from University of Minnesota Extension, stated that, "The average cash breakeven price is $4.26 for corn and $10.78 for soybeans for southern Minnesota farmers. The average cash corn and soybeans prices for Worthington in 2017 has been $3.23 for corn and $9.07 for soybeans, well below the prices needed to cover costs."
Lawmaker Activity
Dave Bergmeier reported last week at the High Plains Journal (Dodge City, Kans.) Online that, "Getting a farm bill to the finish line by the end of the year is the goal of the chairman of the Senate Agriculture Committee.
"U.S. Sen. Pat Roberts, R-KS, said when President Donald Trump changed his stance and signaled his support for retaining crop insurance it was an important breakthrough because crop insurance has bipartisan support in the agriculture committee. Roberts said crop insurance is a vital risk- management tool for grain producers particularly when grain prices are low. Roberts offered his comments on the farm bill while attending an Update from Washington on Aug. 15 sponsored by the Dodge City Area Chamber of Commerce.
"When Trump presented his budget earlier in the year he called for a significant cut in crop insurance, but he has softened his view after receiving input from farm state lawmakers as well as producers."
And, an article on Thursday at the Great Bend Tribune (Kans.) Online included these remarks from Chairman Roberts, "'Give us two days on the floor, and I think we can get it done,' he said, admitting he was being more specific than usual in regard to the Farm Bill. 'If it doesn't happen, we will do it in early 2018, again, because our farmers need that direction, that opportunity and that help.'"
Matt Dotray reported on Friday at the Lubbock-Avalanche Online that, "Back when U.S. Sen. Ted Cruz was running in the presidential primary there were rumbles from some in the farming community over whether the Texas Republican was supportive of government's financial role in agriculture risk management.
"Cruz notably voted against the 2014 farm bill and was on the record in using market-economy arguments to oppose crop insurance — saying it drives up prices and limits consumer choice.
"Cruz seemed to try to put all those concerns to rest Friday afternoon in Lubbock."
The article noted that, "At a Q&A visit with members of the Farmers Cooperative Compress in Lubbock, Cruz preached to the choir on issues like ginning assistance, cotton subsidies and loan programs.
"'Listen, cotton has had a tough run,' he said. 'That's why I joined the 23 other senators in encouraging the administration to use the ginning assistance and cost-sharing program, just as it was done in 2015. It's why also I've spoken directly with (Agriculture) Secretary (Sonny) Perdue about treating cotton as an oil seed and treating it fair. …We want to have an environment where you guys can prosper and grow and continue generating jobs.'"
In addition, Evan Hendershot reported on Wednesday at The Daily Republic (Mitchell, S.D.) Online that, "Bipartisan support could be the spark that leads to a farm bill replacement before it expires in September 2018.
"U.S. Sen. Mike Rounds told The Daily Republic on Wednesday that he expects the farm bill to have a good chance at being approved by Congress by the fall of 2018.
They want — Republicans and Democrats — want to see a good farm bill in place before it expires, that is helpful, Rounds said.
The article added that, "But working ahead could help Congress avoid a standstill similar to that seen in the health care reform debate.
"'The fact that we're working on it and there's been attention paid to it this far in advance is a positive development,' Rounds said."
Ryann Brooks reported on Saturday at The Emporia Gazette (Kans.) Online that, "Food insecurity, nutrition, trade, commodity programs and food deserts were discussed when Congressman Roger Marshall [R., Kans.] kicked off his 2017 Farm Bill Listening Tour at Symphony in the Flint Hills Friday morning."
The article noted that, "Marshall said about 80 percent of the proposed Farm Bill is allocated for nutritional supplements, which equates to roughly $80 billion of the $100 billion bill.
"'There's a great need for food assistance and there's a lot of good things about it,' Marshall said. 'There's a lot of things that are working very well and it's a big chunk of the Farm Bill. About 80 percent of the Farm Bill is for nutrition supplements. My goal is to make sure whatever money we can afford to use for nutrition, we use it the best we can for people who need it the most. I love it when we partner with local communities. I'm very concerned about preschool-aged kids getting adequate nutrition in this state. I'm concerned about the milk and protein in their diet and that they're not getting enough of it.'"
Meanwhile, the following tweets illustrate some of the August recess farm related activities of lawmakers who serve on the House and Senate Ag Committees:
In addition, note the following press releases about agriculture related activities from some of the Members of the House and Senate Ag Committees:
"Kuster Hears from Local Farmers, Agriculture Leaders about Priorities for Upcoming Farm Bill." (August 16th).
"Congressman Evans Visits Agriculture Progress Days at Penn State." (August 17th).
"Goodlatte Tours Shenandoah Valley Farms and Agribusinesses." (August 10th).
"Thune Discusses Farm Bill Proposals, Thanks Farmers and Ranchers at Dakotafest Farm Bill Forum." (August 16th).