Senate Farm Bill Hearing, Rural Development- Broadband Access, Opioid Epidemic Noted
On Thursday, the Senate Agriculture Committee held its ninth Farm Bill hearing where the panel turned its attention to rural development and energy programs.  Recall that a House Agriculture Subcommittee explored similar issues back in March.  Today's update provides a brief overview of yesterday's hearing with particular focus on rural broadband Internet access and the opioid epidemic, two issues that were raised by lawmakers.
Background
Ag Committee Chairman Pat Roberts (R., Kans.) indicated at yesterday's hearing that, "While it is a principal duty of this committee to ensure the next Farm Bill provides our nation's agricultural producers with the necessary tools and resources to feed a growing and hungry world, our responsibilities, and the role of USDA, do not stop there.
"It is also critical the next Farm Bill works to support rural businesses, cooperatives, health clinics, schools, renewable energy and bio-based product manufacturers, and other essential services providers that serve as the backbone of the communities our farmers and ranchers call home."
Ranking Member Debbie Stabenow (D., Mich.) pointed out in her opening comments at the hearing that, "Rural communities are often the first to feel effects of an economic downturn and the last to see the impacts of an improving economy.
"As a result, we should be making more investments in rural America, not less."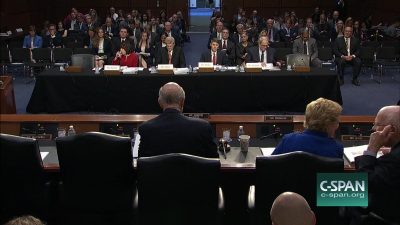 Anne C. Hazlett, the Assistant to the Secretary for Rural Development, noted in her opening remarks that,
Approximately 14 percent of the population of the United States is considered rural, while nearly 72 percent of our land mass is rural.
Ms. Hazlett added that, "USDA Rural Development has a loan portfolio of more than $220 billion, as of June 30, 2017. In the first three quarters of fiscal year 2017, our staff made loans, loan guarantees and grants of more than $20 billion in rural areas throughout the United States and its territories."
Rural Broadband Internet Access
During the discussion portion of the hearing, Sen. Stabenow indicated that, "I'd like to talk about broadband, which is a passion of mine. And Mr. McLean [Christopher McLean, the Acting Administrator of the USDA's Rural Utilities Service], you were talking about that being a passion of yours and your agency's as well. When we think about how we move forward quality of life in small towns, whether it's, you know, small businesses I've talked to that want to sell their product around the world and still be in northern Michigan looking at the Great Lakes and the beautiful quality of life that we have, or whether it's our hospitals that want to be able to connect and provide the highest quality medical care, or whether it's schools and so on, we know that this is the piece—at least I believe it's the piece—and would like you to speak to this, and would welcome each of the panelists to speak about the priority right now of making sure that we are connecting and not leaving rural America behind right now as technology is moving so fast."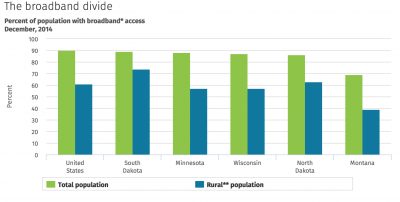 Mr. McLean noted that, "In our electric program we're seeing rural electric cooperatives deploy smart grid technologies using fiber assets which then can be leveraged in partnership with local telcos or the co-ops themselves to be able to provide consumer-based broadband services. We are seeing some amazing projects come before our loan committee where we have reliable revenues and reliable levels of universal service support or we're seeing fiber to the home. We just recently approved a batch of loans in South Dakota that are some of the more remote areas that are bringing fiber to the home technology. So it is possible to be able to do this.
"But there are segments of the rural market that the story is still being written as to what levels of support will be available. There's a major proceeding at the Federal Communications Commission to address those rural areas of large telecom providers that need levels of support. And we are watching very, very closely, and where appropriate, providing advice on how those new support mechanisms will reveal themselves and inspire investors, rural electric cooperatives, local telco cooperatives, and small town telecom companies, and new providers to be able to invest in broadband services in those underserved areas."
Ms. Hazlett explained that, "I mentioned the Agriculture and Rural Prosperity Task Force that Secretary Perdue is leading. I think a lot of this, from his perspective, also comes down to leadership and just needing to see the different federal agencies that play a role in this important issue working together."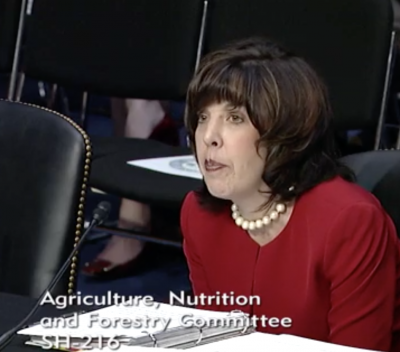 Sen. Stabenow added that,
And I would just say I think this is the issue of the moment. At one point it was connecting the farmhouse at the end of the road with a phone and with electricity, and now it is high speed Internet, and if we don't fix that, we're not going to see the quality of life that we want in our rural communities.
Opioid Epidemic
Sen. Patrick Leahy (D., Vt.) stated at yesterday's hearing that, "I am always concerned on rural development matters, [it's] one of the reasons I've stayed in this committee all these years. And coming from as rural a state as you're going to find. We have, unfortunately, the opioid epidemic is devastating our communities, including rural areas in Vermont.
"Senator Roberts and Senator Donnelly, to their credit, have introduced a bill requiring USDA to make a priority a community facility direct loans and grants for substance abuse disorder treatment services, including telemedicine facilities and so on, and I think we should make a priority of that. But I think we also have to find new resources to combat it. We need to find a way in the farm bill to increase funding for community facilities to combat opioid addiction."
"And what can the department do to strengthen and improve rural development programs and help those who are struggling with opioid? It's become, in some places, you know, an epidemic.
And this is not a Democratic or a Republican issue. It's something that I think it's fair to say every single senator on this panel worries about.
Ms. Hazlett noted that, "Thank you, Senator Leahy, for raising this important issue and thank you for your leadership. Secretary Perdue recently held a listening session in New Hampshire where he heard from various stakeholders about this crisis and we had an opportunity to see some of the things that are working in the Northeast very well to address this issue."
"We are well positioned to be a strong partner in addressing some of the root challenges that are often at the heart of this issue such as—
Sen. Leahy interrupted Ms. Hazlett and pointed out that, "But you're going to need more money in these programs to do that, is that correct?"
He also stated to Ms. Hazlett that, "I'm wearing my hat as the Vice Chairman of the Appropriations Committee now…I've talked with Secretary Perdue about this, too. But you've got to ask for the money and you've got to push for the money."
Chairman Roberts then noted that, "Senator, I'm sure that you and I will receive a call from Anne, if not the Secretary, for adequate funding on this most important topic. And we're united in that effort."
And a news release yesterday from Sen. Joe Donnelly (D., Ind.) indicated that, "[Sen. Donnelly] today in the Senate Agriculture Committee, asked Hoosier and Assistant to the Secretary of Agriculture for Rural Development, Anne Hazlett, about the U.S. Department of Agriculture's ability to improve addiction and substance abuse prevention programs and treatment access in rural communities. Donnelly, along with Senate Agriculture Committee Chairman Pat Roberts (R-KS) and Senator Luther Strange (R-AL), recently announced a bipartisan package of legislation aimed at combatting substance use disorders in rural communities. The bills would direct a pair of USDA programs to focus on providing facilities and access to telemedicine needed to prevent and treat substance use disorders, including the opioid epidemic."