USDA Trade Data; NAFTA Perspectives: Lawmakers, Ag Secretary, Farmers, and Mexico
Today's update takes a closer look at recent USDA agricultural trade export data for fiscal year 2017, and then proceeds to examine recent news items that provide perspective on NAFTA trade issues from lawmakers, the Secretary of Agriculture, farmers, and Mexico.
Background- USDA Data Update
Gary Crawford indicated in a radio news update from USDA on Thursday that the 2017 fiscal year U.S. agricultural export forecast had progressively increased from $133 billion in August of 2016, to $136 billion in February 2017, to $139.8 billion this August.  Ultimately, exports outperformed even the latest estimate to come in at $140.5 billion.
Mr. Crawford explained that the updated fiscal year 2018 forecast for agricultural exports, which are currently projected at $139 billion, will be released on November 30th.
More specifically, the updated USDA trade data from earlier this month showed that the value of corn exports was up 6% in fiscal year 2017, soybeans increased by 17%, wheat was up 21%, and dairy products increased by 17%.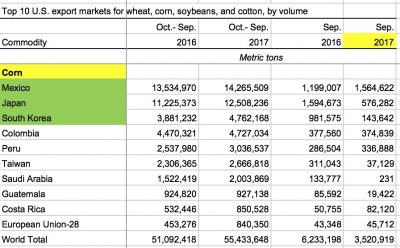 Trade Perspectives: Lawmakers
A news release on November 6th from Sen. Heidi Heitkamp (D., N.D.) stated that, "[Sen. Heitkamp] secured a commitment from U.S. Trade Representative (USTR) Robert Lighthizer that he will protect agriculture in any NAFTA renegotiation.
During their phone call, Heitkamp urged Lighthizer to protect agriculture in the renegotiation of NAFTA and reinforced how NAFTA has helped farmers and ranchers in North Dakota export to Mexico and Canada, especially as recent news reports said that agriculture may get left behind during the discussions.
On November 7th, a House Ag Committee update explained that, "Today, House Agriculture Committee Chairman K. Michael Conaway (TX-11) and Ranking Member Collin Peterson (MN-7) welcomed leaders of eight agricultural stakeholder groups to discuss the status of the North American Free Trade Agreement (NAFTA) in advance of the upcoming negotiations in Mexico City."
Following the roundtable, Chairman Conaway stated that, "All parties today were on the same page – NAFTA is important to agriculture and agriculture must remain a top priority in the negotiations. I am hopeful that both Canada and Mexico will come to the next round of negotiations prepared to have substantive conversations. We are eager to conclude these negotiations and to move on to inking new agreements that expand trade opportunities for American agricultural producers."
However, an article early last week posted at Inside U.S. Trade reported that, "While the business community and some on Capitol Hill are looking for ways to stop President Trump from a potential NAFTA withdrawal, Republican leaders in the House and Senate have made clear in closed-door meetings they will not face off with the president on trade out of fear they could jeopardize tax reform efforts or spur primary challenges to vulnerable lawmakers in 2018, congressional and private-sector sources told Inside U.S. Trade."
Trade Perspectives: Agriculture Secretary Sonny Perdue
Meanwhile, with respect to the executive branch, Modesto Bee (Calif.) writer John Holland reported on November 5th that, "[Sec. Perdue] said he has tried to show Trump the importance of NAFTA. He added that his boss is 'very bombastic sometimes on things that he believes … but he also has the essence of a good leader who is willing to listen.'"
And Catherine Boudreau reported last week at Politico that, "Agriculture Secretary Sonny Perdue said Wednesday that he was working with Trump administration officials and Congress on a plan to protect farmers and ranchers from the potential market effects of the U.S. withdrawing from NAFTA.
"'We're talking with the administration and Congress about some mitigation efforts if that were to occur; about how we could protect our producers with that [farm] safety net based on prices that may respond negatively to any kind of NAFTA withdrawal,' Perdue told reporters after a USDA ceremony honoring veterans [related audio here]."
Following this news, Donnelle Eller reported on the front page of Saturday's Des Moines Register that, "U.S. Ag Secretary Sonny Perdue on Friday downplayed reports earlier this week that the Agriculture Department is working on contingency plans for U.S. withdrawal from the North American Free Trade Agreement.
Perdue said he was probably premature to publicly discuss possible contingency plans. 'I think it's my responsibility to think about what-if scenarios,' he said.
The Register article added that, "'I wanted to make the administration aware there could be some devastating price changes if NAFTA is not renegotiated,' said the former Georgia governor, who has suggested farmers would need 'safety nets' if they lost the NAFTA agreement.
"He declined on Friday to elaborate what the safety nets would encompass."
(Note also that Mississippi State University agricultural economist Keith Coble pointed out on Wednesday that, "So here is the question. To what extent would our current farm safety net mitigate a sudden shock to crop prices due to a trade disruption?…Ultimately, our farm safety net is not designed for such a shock. Maintaining trade flows and reducing barriers to trade has a strong economic justification. There are clear benefits to consumers and agricultural producers.")
Saturday's Des Moines Register article added that, "U.S. threats to pull out of longstanding trade agreements with Mexico and Canada could drag Iowa's ag industry into another depression, some state farm leaders say.
'We're not doing that well now, so any more bad news could push us over the edge,' said Dermot Hayes, an Iowa State University economist."
Trade Perspectives: Farmers
Politico writer Adam Behsudi reported on Thursday that, "'I've come to believe this administration is determined to end NAFTA,' said Gordon Stoner, a fourth-generation Montana wheat farmer who leads the National Association of Wheat Growers.
"The fearful tone now coming from many of the nation's farm groups has only amplified as America's agriculture sector confronts the loss of its main profit driver — foreign exports."
The Politico article explained that, "There's also a growing recognition that the agriculture industry, while united on the importance of NAFTA, may have failed to coordinate an effective strategy to counter the threat that Trump posed to the trade pact since his first day in office."
Jim Spencer reported early last week at the Minneapolis Star-Tribune Online that, "[Randy Spronk], a hog farmer who also raises corn and soy beans, did not mince words in describing the impact he and others in the Minnesota agricultural sector will feel if the president's rhetoric blows up the 23-year-old trade deal between the U.S., Mexico and Canada.
"'It will be,' Spronk told [a forum at the U.S. Chamber of Commerce headquarters], 'a financial catastrophe. I'm not sure if everyone in the administration understands that.'"
Trade Perspectives: Mexico
Jude Webber reported on Monday at The Financial Times Online that, "While [Mexico] is heavily dependent on the US for both imports and exports, it has imported more yellow corn from Brazil and Argentina in September than in the whole of 2016.
"'Uncertainty is going to play into the decisions of companies — if they no longer have a reliable source of imports, they're going to look for one,' said one senior government official who asked not to be named. 'The numbers are small so far but this is just a little taster of what they could do.'
"Mexico bought 100,800 tonnes of yellow corn from Brazil in September and 41,000 from Argentina — a drop in the ocean compared with the 10.5m tonnes bought from the US.
But so far this year, it has bought 11 per cent more of the commodity from the two South American countries than in all of 2016, according to government data.
The FT article noted that, "'We are not completely alarmed yet,' said Ryan LeGrand, USGC director in Mexico. 'We don't think it will become a trend. We expect the US to continue to dominate provided we are able to come to an agreement in Nafta.'
"But with a crunch round of talks in Mexico City on November 17-21, economists are taking a stark look at the cost of losing Nafta. Ildefonso Guajardo, Mexico's economy minister, told Congress last week that the way things stood, an end to Nafta 'cannot sanely be ruled out.'"