RFS: Rift Between "Corn State" Senators & "Oil-and-Gas State" Senators Persists
Last week, Sen. Ted Cruz (R., Tex.), along with several of his GOP colleagues, met with President Trump and other executive branch officials regarding the Renewable Fuel Standard (RFS).  Today's update looks briefly at some of the recent political maneuvering among Senators that led to the RFS meeting with Sen. Cruz, and examines some of the news articles that highlighted the results of that session.
Political Prelude- Senator Cruz Seeks Executive Branch Meeting
Earlier this fall, farm state Senators, and in particular Iowa GOP lawmakers Chuck Grassley and Joni Ernst, successfully thwarted a proposal from the Environmental Protection Agency (EPA) to reduce the volume requirements for biodiesel for 2018 and 2019 under the RFS.  In late November, EPA released its federal requirements that stuck closely to the current quotas for fuel.
During the political wrangling surrounding that RFS issue, Sen. Ernst had temporarily blocked the nomination of Bill Wehrum to a position at the EPA.
With that background in mind, Omaha World-Herald reporter Joseph Morton pointed out in an article on October 26th that, "Corn Belt lawmakers have reveled in recent success pressuring the Trump administration to support renewable fuels.
"But now senators who represent states with refineries are mounting their own offensive — and apparently adopting some of the same hardball tactics.
"Sen. Ted Cruz, R-Texas, for example, is blocking Iowa Agriculture Secretary Bill Northey's nomination to a top post at the U.S. Department of Agriculture, according to a report in Politico."
Mr. Morton added that, "Reuters reported that a group of senators from refinery states such as Texas, Oklahoma and Pennsylvania wrote to the White House advocating for an RFS overhaul.
"And they suggested a sit-down with administration officials and Midwest senators in an effort to make a deal."
More specifically, on November 15th, Jason Noble reported at The Des Moines Register Online that, "U.S. Sen. Ted Cruz on Tuesday [November 14th] sent a letter to Iowa Gov. Kim Reynolds acknowledging his role in blocking the nomination of Iowa Secretary of Agriculture Bill Northey to a senior post in the U.S. Department of Agriculture.
In the letter, Cruz tells Reynolds he is blocking Northey's appointment as a USDA undersecretary in an attempt to compel stakeholders from corn-growing states like Iowa to sit down with officials from the oil-refining industry to discuss changes to the Renewable Fuel Standard.
Last Monday, The Washington Examiner reported that, "Trump administration officials will meet with Sen. Ted Cruz, R-Texas, and other Republicans at the White House Thursday to try to hash out a deal on the Renewable Fuel Standard that would please oil refiners."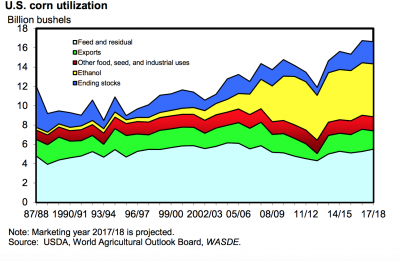 The article stated that, "The meeting is expected to include a number of Cabinet officials such as Agriculture Secretary Sonny Perdue, Energy Secretary Rick Perry, EPA Administrator Scott Pruitt and National Economic Council Director Gary Cohn, according to a source privy to the meeting."
Nonetheless, Donnelle Eller reported early last week at The Des Moines Register Online that, "Sen. Chuck Grassley expects President Trump will continue to support ethanol, even though the president is meeting with renewable fuel opponents about the federal mandate this week.
"Grassley said Tuesday he's not concerned about Trump's meeting with Sen. Ted Cruz, R-Texas, other oil-state senators and petroleum representatives so long as 'the president keeps doing what he's told the voters of Iowa, me and Sen. (Joni) Ernst so many times — that he supports ethanol.'
"The Iowa senator dismissed the idea that Trump could strike a deal weakening his commitment to the Renewable Fuel Standard in exchange for Cruz releasing his hold on Iowa Ag Secretary Bill Northey's confirmation to a top U.S. Department of Agriculture post."
RFS Meeting
On Thursday, Bloomberg writers Jennifer A Dlouhy and Jennifer Jacobs reported that, "President Donald Trump urged Republicans to settle their differences over the U.S. biofuel mandate at a White House meeting Thursday with Ted Cruz and other senators critical of the requirement for ethanol use, according to lawmakers who attended.
"'There wasn't a resolution. It was we need to get to resolution,' said Senator James Lankford, an Oklahoma Republican who attended the meeting."
The Bloomberg article noted that, "Cruz insisted on the meeting to discuss possible changes to the biofuel mandate before he will stop blocking a vote on Trump's nomination of Iowan Bill Northey to be an undersecretary of Agriculture. Cruz would not comment after the meeting when asked if he would lift a hold stalling action on Northey.
"'We are working towards a win-win solution that will benefit both blue-collar refinery workers' at refineries and 'corn farmers,' Cruz said."
Dlouhy and Jacobs explained that,
A White House official said the president understands the importance of the Renewable Fuel Standard to rural America and also understands the objections of the oil refining sector about 'compliance burdens.' Trump planned to listen to the concerns of the senators with the hope of finding common ground on both sides of this debate, the aide said.
"'There was a collective desire to continue the conversation with all of the stakeholders here in the Senate and the House — the corn state, oil-and-gas state senators — and with the help of the Cabinet try to come up with some sort of compromise everybody could support,' Senate Majority Whip John Cornyn of Texas said after the meeting. 'There's some indication that the EPA administrator could have some authority with regard to the RIN prices, which are incredibly volatile.'"
On Friday, Reuters writers Richard Valdmanis and Jarrett Renshaw reported that, "President Donald Trump's administration called two lawmakers from the U.S. corn belt to convince them to join talks about potential changes to biofuels policy to ease the burden on oil refineries, according to a spokesman for one of the lawmakers and a source briefed on the matter.
"The effort is the clearest sign yet Trump is seeking to mediate the long-running dispute between the U.S. oil industry and corn growers over the Renewable Fuel Standard (RFS), a law requiring refiners to blend increasing volumes of biofuels like corn-based ethanol every year into the nation's fuels."
The Reuters article noted that, "White House Chief of Staff General John Kelly on Thursday called Republican Senator Chuck Grassley of corn-growing state Iowa – a leading supporter of the biofuels industry – to discuss the possibility of a meeting, Grassley's office told Reuters on Friday.
"And Agriculture Secretary Sonny Perdue called Republican Senator Joni Ernst, also of Iowa, on the issue, a source briefed on the matter told Reuters, asking not to be named."
Valdmanis and Renshaw added that, "Senators on both sides of the debate have used parliamentary procedures like holds on administrative appointments to punish rivals.
"For example, Cruz has said he would block Iowa Agriculture Secretary Bill Northey's nomination to a key post at the U.S. Department of Agriculture until he gets a meeting about a biofuels compromise that includes all sides."