USDA Trade Data; NAFTA Perspectives from Farm State Senators
Today's update provides a brief overview of updated USDA agricultural export data, and also looks at recent news items regarding the NAFTA renegotiation, with particular focus on perspective from some farm state Senators.
Background- USDA Data Update
The U.S. Department of Agriculture is currently projecting fiscal year 2018 agricultural exports at $140.0 billion, $1 billion more than its August forecast, but slightly below the fiscal year 2017 level of $140.5 billion.
Earlier this week, USDA updated some of its monthly agricultural trade data, which showed that the value of U.S. agricultural exports for October, the first month of the 2018 fiscal year, had risen to $13.2 billion.  This was $2.6 billion higher than the value of exports in September ($10.6 billion).
On Wednesday, Gary Crawford of USDA radio, explained that for the first ten months of calendar year 2017, the total value of U.S. agricultural exports is four percent higher than for the same period in 2016.  In the radio segment, USDA trade analyst Bryce Cooke pointed out that the value of soybean exports is up two percent from last year, while the value of corn exports has fallen by five percent.
By volume, Mexico was the top destination for U.S. corn and wheat through the first ten months of the calendar year, while China continued to be the dominant destination for U.S. soybeans.
More specifically with respect to livestock trade, the December issue of The Economic Landscape, from USDA's Agricultural Marketing Service, noted that for pork, "Year-to-date exports increased 7 percent in volume and 10 percent in value compared to 2016. The largest overseas markets for U.S. pork were Japan, Mexico and Canada."
And for beef, The Landscape report noted that, "In the first ten months of the year beef export volume rose 9 percent from last year, and value rose 16 percent. Japan, South Korea and Hong Kong were our largest export markets in October."
Meanwhile, Barbara Soderlin reported on Saturday at the Omaha World-Herald Online that, "Nebraska has led the nation so far this year when it comes to beef sales to its new customer, China. No surprise, since the state — already the country's biggest exporter of beef — was the first state to ship to China when the market opened this summer.
"Nebraska's shipments to China, totaling $8.7 million so far, are only a small part — less than 1 percent — of Nebraska's beef export totals, which were valued at $1.04 billion through October this year.
Still, it's notable that Nebraska's beef exports to China were just over half the U.S. total.
Trade Perspectives: Farm State Senators
Joseph Morton reported in Wednesday's Omaha World-Herald that, "Farm state lawmakers continue to urge President Donald Trump not to completely abandon the North American Free Trade Agreement.
"Sens. Deb Fischer, R-Neb., and Joni Ernst, R-Iowa, joined several GOP colleagues at the White House on Tuesday for a lunchtime NAFTA discussion with the president and U.S. Trade Representative Robert Lighthizer."
'I have concerns that it would be fairly easy for Mexico to find new markets if there would be a break in our trade with them,' Fischer told The World-Herald after the meeting.
The article added that, "Fischer said the president indicated that he wants to get the same group of senators together again so they can continue to provide input about the administration's trade policy."
A news release on Thursday from  Sen. Claire McCaskill (D., Mo.) indicated that, "[Sen. McCaskill], along with fellow members of the Senate Finance Committee, met this week with President Trump's trade chief to discuss the importance of protecting Missouri's agriculture economy in the renegotiation of the North American Free Trade Agreement (NAFTA), and released the following statement:
'Our trade deals need to be better, but I'm really worried about Missouri agriculture, which is the backbone of our economy. Nothing the Trade Ambassador said reassured me. I'm very concerned that Missouri agriculture is going to pay a big price for the trade policies of this Administration.'
And, a news release on Wednesday from Sen. Jerry Moran (R., Kans.) stated that, "Today, [Sen. Moran] met with Secretary of Commerce Wilbur Ross regarding the ongoing negotiations with the North American Free Trade Agreement (NAFTA) and NAFTA's vital importance to farmers, ranchers and manufacturers in Kansas. Sen. Moran, who requested today's meeting through the Senate Commerce Committee in a letter to Commerce Chairman John Thune (R-S.D.), was joined by several of his colleagues from the committee."
"'I encouraged Secretary Ross to be extremely mindful of the role agricultural trade plays in Kansas' economy and the consequences of NAFTA withdrawal to our farmers and ranchers. To illustrate this point, I showed Secretary Ross a picture of grain piles waiting on the ground in Kensington, Kansas as a direct example of why NAFTA is needed in our state to sell goods and feed the world.'"
Politico writer Megan Cassella reported at Morning Trade on Friday that, "Sen. Chuck Grassley said it's become clear after recent meetings with top administration officials that President Donald Trump isn't ready to abandon his brinkmanship over a possible withdrawal from NAFTA, even as he and other lawmakers continue to make the argument that a potential NAFTA pullout, or even the threat of doing so, could have disastrous consequences for farmers."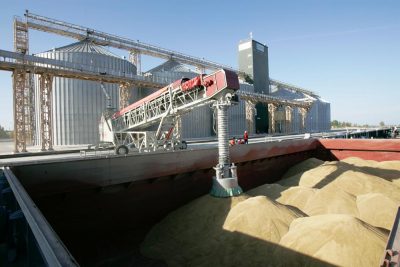 Senate Ag Committee Chairman Pat Roberts (R., Kans.), who penned an Op-Ed at The Hill on Wednesday highlighting the benefits of NAFTA, appeared on C-SPAN's Newsmakers program Friday, and noted that, "It's like Humpty Dumpty.  You don't push Humpty Dumpty off the wall because you can't put the pieces back together again.  To start the termination effort, to start that clock, it would send shivers all throughout agriculture.  You have to plan ahead in agriculture.  You  have to have predictability.  You have to have stability.  So all this talk about termination is very counterproductive.
"I just met with the President at the Christmas party at the White House.  I was one of the last ones…before I could even say, 'Merry Christmas Mr. President,' he looked at me, put his thumb up, and said we're going to be all right on NAFTA.
"So, we'll see.  We've had some long discussions.  Many members have gone up and talked to the appropriate folks up in the White House.  And I look forward to going up again.  So I'm still optimistic we're going to be ok."
Meanwhile, CBS News reported last week that, "Mexico's ambassador to the U.S. Gerónimo Gutiérrez tells CBS News 'We're now about 50-50′ odds NAFTA will be terminated. This follows a fifth round of renegotiations among the U.S., Mexico, and Canada that concluded last month in Mexico City on the nearly 24-year-old free trade agreement."
Also, Anneken Tappe reported on Thursday that, "Goldman Sachs analysts expect the U.S. to announce its intention to pull out of the North American Free Trade Agreement with Canada and Mexico, a move with the potential to throw the Mexican peso and Canadian dollar for a loop.
"An announcement is likely in the next few months, wrote Goldman economists Michael Cahill, Karen Reichgott and Mark Ozerov in a note on Wednesday."