Farm Groups Concerned About Additional U.S. Trade Restrictions- China Agricultural Retaliation
Following the implementation of U.S. import tariffs on solar panels and washing machines, more recent news regarding potential executive branch trade barriers imposed on steel and aluminum imports have caused concern among some American agricultural groups.  China is a leading producer of solar panels and steel, and is also a key export destination for U.S. agricultural exports.  As U.S. farm income potentially languishes for another year, export markets have become increasingly important to the value of U.S. crop production.  Some observers have cautioned that agricultural products could be targeted by China in retaliation for additional U.S. trade restrictions.
Background: Recent U.S. – China Trade Issues and Agriculture
Earlier this year, the Trump administration set new trade barriers on imports of solar panels and washing machines. China, which expressed displeasure with that move, is the biggest producer of solar panels and the largest importer of U.S. soybeans.  News articles at the time discussed the idea that U.S. agricultural exports could be caught up in a potential tit-for-tat trade dispute that could emerge between the two countries.
And earlier this month, China initiated an anti-dumping and anti-subsidy investigation into U.S. sorghum exports, an issue that Secretary of Agriculture Sonny Perdue brought up at a recent House Agriculture Committee hearing.
Caitlin Dewey reported on February 6th at The Washington Post Online that, "Observers fear that, should tensions continue to escalate, China may target soybeans next. The country is by far the largest export market for soybeans, dwarfing runner-up Mexico by a factor of seven."
The Post article explained that, "Agriculture is in a special position, said Chad Bown, a senior fellow at the Peterson Institute for International Economics, because the United States is such a large supplier to China. And the country has a long history of biting back against trade partners who seek to impose tariffs on it.
"When President Barack Obama slapped tariffs on Chinese tires in 2009, Beijing responded by placing its own tariff on chicken feet. The administration eventually took the matter to the World Trade Organization, which ruled in favor of the United States — but not before American poultry exports to China collapsed 90 percent.
The concern now, Brown said, is what China will do next: not only in this investigation but also in response to Trump's other trade actions.
And, on February 7th, Bloomberg News reported that, "China is studying the potential impact of trade measures imposed on soybeans imported from the U.S., valued last year at $13.9 billion, according to people familiar with the matter.
"Speculation is mounting over China's response to U.S. tariffs on imported solar panels and washing machines announced last month. The Ministry of Commerce has been looking into the consequences of measures against U.S. soybeans since January, according to the people, who asked not to be identified because the information hasn't been made public. That includes anti-dumping and anti-subsidy probes, they said."
Meanwhile, on February 9th, Reuters writers Hallie Gu and Dominique Patton reported that, "Some Chinese buyers have canceled corn purchases from the United States and switched to rival supplier Ukraine, as Beijing tightens controls on processing genetically modified strains of the crop, three trade sources and an analyst told Reuters."
The article noted that, "The development comes as Beijing broadly increases scrutiny of genetically modified imports;" and added that, "Beijing launched an anti-dumping and anti-subsidy investigation into imports of sorghum from the United States, fuelling concerns in the industry that soybeans might be caught up in trade action."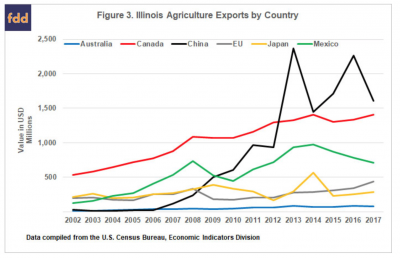 Potential trade retaliation against U.S. pork exports have also been discussed in a recent Reuters news article.
In addition, Jacob M. Schlesinger and Harriet Torry reported earlier this month at The Wall Street Journal Online that, "The U.S. trade deficit in goods and services grew 12% last year to $566 billion, its widest mark since 2008 and a challenge for President Donald Trump, who has pledged to rebalance the nation's books with the rest of the world.
"The goods deficit with China alone rose 8% during Mr. Trump's first year in office to a record $375.2 billion, or nearly half the total global gap between U.S. imports and exports, the Commerce Department said [on February 6th]."
The Journal writers noted that, "Those numbers are likely to figure prominently in a White House campaign to ramp up pressure on Beijing's trading practices. Administration officials are weighing wide-ranging import and investment limits on Chinese companies in retaliation for allegedly unfair trade policies. Decisions are expected soon, but no timetable has been set."
Trade Concerns Persist
With this background in mind, Ana Swanson reported on Friday at The New York Times Online that, "The Trump administration for the first time declared imports of steel and aluminum from China and other nations a threat to national security, laying the foundation for President Trump to impose the types of punitive tariffs he has long championed."
The Times article noted that,
Yet erecting barriers could prompt swift retaliation from other trading partners, including China and the European Union, which have already warned of reciprocal action in response to protectionist measures.
"In a meeting with lawmakers of both parties on Tuesday, Mr. Trump played down objections to the trade measures, and said that the United States was considering tariffs, quotas or both. 'You may have a higher price, but you have jobs,' Mr. Trump told the bipartisan group."
The Times article did point out that, "But American options for aiming at China directly are limited. Because the United States has already imposed a raft of restrictions on Chinese steel in previous years, only 2 percent of American steel imports came directly from China in 2015."
DTN Ag Policy Editor Chris Clayton reported on Friday that,
Leaders from the American Soybean Association and National Pork Producers Council expressed concern Friday about potential tit-for-tat trade retaliation against U.S. agricultural exports after the Trump administration proposed that aluminum and steel imports, particularly from China, are a threat to national security.
Mr. Clayton explained that, "Eighteen agricultural groups wrote [Commerce Secretary Wilbur Ross] last July cautioning him not to place restrictions on aluminum and steel imports, declaring it would open a 'Pandora's Box' that would be a disaster for global trade 'and for U.S. agriculture in particular.' The farm groups wrote to Ross that it would be 'a short-sighted mistake' to restrict imports based on national security claims. The farm groups called on Ross to consider the broader implications for the economy 'and avoid igniting a trade war through new restrictions on steel or aluminum trade …'
"The American Soybean Association cautioned Friday against the risk of retaliation by China, which buys roughly one third of U.S. soybeans, valued at more than $14 billion. ASA President and Iowa farmer John Heisdorffer said the news from the Commerce Department should be concerning for soybean farmers."
Potential Implications
With respect to the potential implications of Chinese action on U.S. soybean imports, Bloomberg News reported on Tuesday that, "As tensions escalate between the U.S. and China, one crop is emerging as the most powerful weapon in a potential trade war: the soybean."
Last week's article indicated that, "Any China soybean curbs would directly hit farmers in Midwestern U.S. states that President Donald Trump needs to win re-election in 2020. Yet they would also pose a big risk for [President Xi Jinping]: His nation is the world's largest pork producer and consumer, and higher costs for pig farmers could increase prices of meat for his nation's 1.3 billion citizens."
"'Using soybeans to retaliate against the U.S. would be a worst-case scenario' for China, said Li Qiang, chief analyst with Shanghai JC Intelligence Co., a private grains consulting firm. 'Pork is a staple meat for Chinese people.'"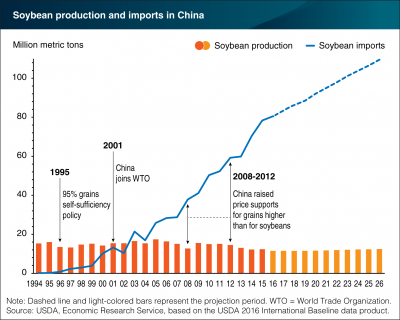 The Bloomberg article stated that, "On pig farms in rural Tianjin, some 200 kilometers (124 miles) from Beijing, concern is growing. Standing next to a sow delivering piglets, Shi Ruixin said his costs would increase sharply if China squeezed U.S. soybean imports.
"'Hog feed prices will rise as well as pork prices,' the 68-year-old farmer said.
"The seasonality of the soybean trade is one reason that China can't easily replace U.S. supply, even though authorities in Beijing have sought to diversify. Last year, China's imports from Brazil rose 33 percent to about 51 million metric tons, while those from the U.S. fell 3.8 percent to 33 million tons."
More broadly on the issue of Brazilian soybean exports, the USDA's Foreign Agricultural Service (FAS) indicated recently that, "Brazil is the largest soybean exporter in the world and will sustain its leadership position in 2018.  Soybean exports for 2017/18 Marketing Year (MY) (February 2018 – January 2019) are forecast at 65 mmt, about 5 percent lower compared to the previous MY. The reduction is based on lower exportable supplies and higher domestic consumption. However, due the large ending stocks and big expected crop, Brazil will continue to ship large quantities and heavily compete with U.S. soybeans, particularly in China."
The FAS update added that, "Brazilian exports in 2016/17 MY saw a dramatic jump, especially when compared to the 2015/16 season. The estimate for the 2016/17 season is 68.3 mmt, of which 75 percent was destined to China.  The record crop during the 2016/17 season, higher protein level relative to U.S. soybeans, and high stock levels led to record exports."
And the USDA's Economic Research Service pointed out last week that, "A leading contributor to this season's gap in U.S. soybean trade is competition from Brazil. Due to a historically large supply, exporters from Brazil were able to supply the global market much longer than usual. Soybean shipments from Brazil for September 2017-January 2018 exceeded the year-earlier level by 312 million bushels."
The ERS update noted that, "While U.S. export sales of soybeans in 2017/18 are lagging last year's pace, the outlook for Brazil's trade has stayed bright. USDA forecasts Brazil soybean exports for 2017/18 up 2 million tons this month to 69 million (compared to 63.1 million for 2016/17). For October 2017-January 2018, Brazil's cumulative soybean exports were a record 8.55 million tons and nearly triple the year-earlier rate."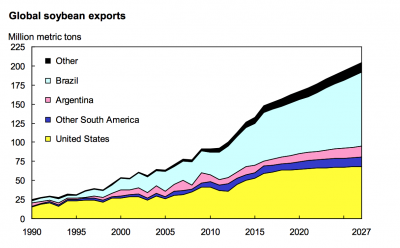 In its 10-year baseline update last week, USDA stated that, "Brazil's soybean exports are projected to rise 30 million tons (45 percent) to 96.4 million tons during the projection period (2018/19 to 2027/28), enabling the country to strengthen its position as the world's leading soybean exporter…[and]… the U.S. share of global soybean exports, are at about 40.3 percent in 2018/19 and projected to decrease to 33.4 percent by 2027/28."