Kansas City Fed Update: Ag Lending, Farmland Values, and Farm Income
Nathan Kauffman and Ty Kreitman indicated in a recent update from the Federal Reserve Bank of Kansas City ("Large-Scale Financing Drives Ag Lending Activity Higher") that, "Alongside persistently low agricultural commodity prices, bankers throughout the country expected farm income to decline in the coming months. Despite the ongoing weaknesses in farm income and agricultural credit conditions, however, delinquency rates on farm loans remained low and the performance of agricultural banks remained sound."  
Today's update looks at the Kansas City Fed update in more detail with a particular focus on agricultural lending variables, farmland values, and farm income.
Lending Variables
"Non-real estate lending increased significantly in the third quarter, according to the National Survey of Terms of Lending to Farmers. The total volume of non-real estate farm loans was more than 30 percent higher than a year ago.  This sharp growth in farm lending followed steady increases earlier in 2018 and represents the largest annual percentage increase in the third quarter since 2002."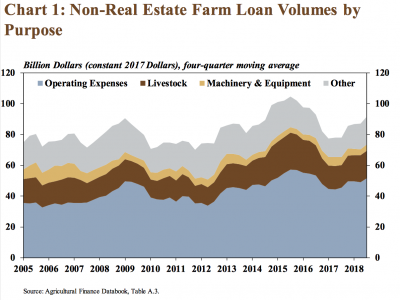 Kauffman and Kreitman pointed out that, "The increase in non-real estate farm lending again was driven primarily by operating loans."
And the report added that, "The large increase in the volume of operating loans was influenced heavily by larger-sized loans. Continuing a recent trend, the volume of very large loans rose sharply in the third quarter."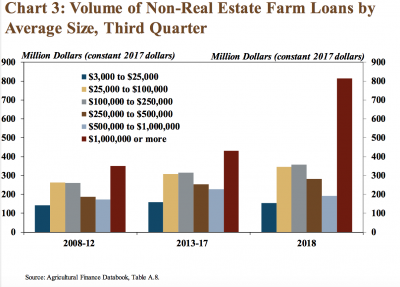 "In the third quarter, the volume of loans larger than $1 million nearly doubled and accounted for almost 40 percent of total non-real estate lending during the reporting period," the report said.
Last week's update noted that, "With the increase in the size of loans, there also was a large increase in the share of lending at large agricultural banks."
Bolstered by larger individual loans and growing loan portfolios, the share of all non-real estate farm loans held by large banks reached a historical high of nearly 80 percent in the third quarter, compared with 72 percent a year ago.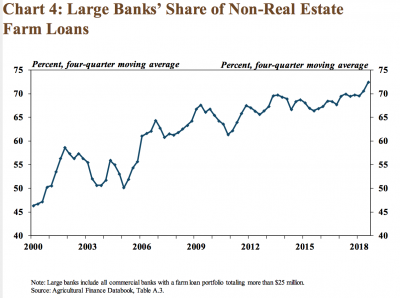 The Fed update also stated that, "Increases in farm real estate lending remained the primary driver of additional increases in total farm debt. Loans secured by farm real estate increased 5 percent in the second quarter, slightly faster than in the previous quarter."
"As farm debt continued to trend higher, the performance of agricultural banks across the country generally has remained solid," the report said.
Farmland Values
In a closer look at farmland values, Kauffman and Kreitman stated, "Despite additional increases in interest rates and emerging concerns about profitability in the farm sector, several Districts reported an increase in farmland values.
In fact, nonirrigated farmland values increased in the majority of states in the Midwest and Plains regions, with the largest increase of 6 percent in North Dakota.
"In comparison, values in Nebraska, Illinois and Kansas decreased slightly. In general, farmland values continued to remain relatively stable as demand for farm loans remained high and the volume of farm lending continued to increase."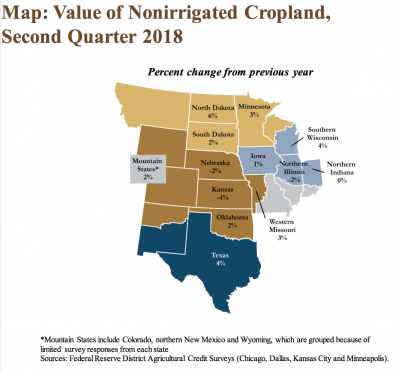 Farm Income
While addressing issues associated with farm income, the Fed update indicated that, "In contrast to modest increases in farmland values, farm income continued to decline in all Districts that report on changes in income. Despite a slight improvement compared with 2017, farm income in the second quarter remained weak and respondents indicated they expect the trend to continue over the next three months.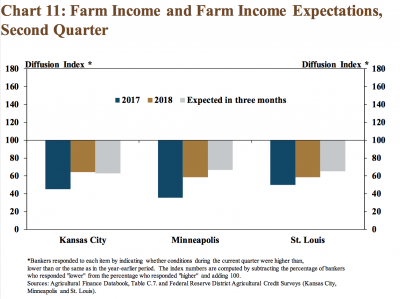 "The continued weaknesses in farm income reported by agricultural banks was similar to recent farm income predictions released by the U.S. Department of Agriculture, which has forecasted U.S. farm income in 2018 to decline 13 percent from a year ago."