Tariff Disruptions Persist, While Trade Talks with China Seem Uncertain
Recent news items continue to discuss the impacts of trade tariffs on agricultural commodities, including soybeans, dairy products, and pork.  Meanwhile, separate articles have focused on executive branch trade policy perspective with respect to China, as well as as the administration's view on potential trade mitigation payments for 2019.
Tariff Impacts: Soybeans, Dairy Products, and Pork
Daniel Shane reported last week at CNN Online that, "First, Beijing slapped tariffs on American soybeans. Now, it wants to wean its farmers off them altogether."
The article stated that, "One of the country's top industry groups this month proposed cutting the amount of protein used in livestock feeds, saying animals could get by with less than is required at the moment. The government-run China Feed Industry Association said a reliance on imported soybeans is creating a 'bottleneck' for the country's farming industry.
"But getting millions of Chinese farmers to reduce the amount of foreign soybeans eaten by their pigs is a daunting task that is likely to take a long time to carry out and could cause disruption throughout the country's agricultural industry.
The plan would inflict further pain on US farmers already smarting from the tariffs and could eventually mean China no longer needs American soybeans at all.
The CNN update pointed out that, "The Chinese government is likely to face a tough task steering millions of pig farmers across the country into following the lower protein requirements."
More immediately, Reuters writer Lucia Mutikani reported Friday that, "The U.S. economy slowed less than expected in the third quarter as a tariff-related drop in soybean exports was partially offset by the strongest consumer spending in nearly four years, keeping growth on track to hit the Trump administration's 3 percent target this year."
"Farmers front-loaded shipments to China before the tariffs took effect in early July, boosting second-quarter growth. Since then, soybean exports have declined every month, increasing the trade deficit," the Reuters article said.
And a news release on Thursday from Sen. Heidi Heitkamp (D., N.D.) stated that, "Data released today from the U.S. Department of Agriculture show the administration's trade war is creating an increasingly critical situation for U.S. soybean growers, with zero exports to China last week in what is typically the peak season for shipments. During the same week last year, the U.S. exported 1.74 million metric tons of soybeans to China. About 70 percent of North Dakota soybeans are typically exported to Asia, primarily China.
"U.S. soybean exports to China this marketing year, which began September 1, total 201,685 metric tons, compared to 6.4 million metric tons at this time last year, a 97 percent decrease. According to reports this week, in response to the trade war, China is moving to cut U.S. soybeans out of their market, shifting their supply chain to U.S. competitors like Brazil and cutting soybeans out of animal feed."
Also, Financial Times writers Gregory Meyer and Monavar Khalaj reported Friday that, "To US farmers whose soyabean sales have slumped amid a trade war with China, an unlikely country is lending a hand: Iran.
"The Islamic republic's imports of soyabeans from the US have surged this autumn ahead of looming sanctions from President Donald Trump. Almost 335,000 tonnes have left terminals on the Mississippi river since the crop marketing year began in September, data from the US department of agriculture data show, up from zero at the same point last year and more than volumes to most European countries."
The FT article added, "Importers including Mexico, Spain, Egypt, Thailand and Iran have taken advantage of the depressed price of US soyabeans."
And Tyne Morgan reported last week at AgWeb Online that, "Purdue University agricultural economist Wally Tyner said as the trade war with China escalates, it's those valuable soybean acres in the U.S. [that are] at stake. Tyner said the U.S. could lose 9 million acres of soybeans to Brazil permanently if the ongoing trade issues with China persist.
'If Brazil and other exporters that compete with us in the world market, if they're able to expand their acreage, if this goes on long enough, Brazil could have an incentive to expand their acreage, and we will not likely get that acreage back,' said Tyner.
More near term, Wall Street Journal writers Jesse Newman and Jacob Bunge reported Sunday that, "American farmers hit by the U.S.-China trade battle are preparing to reshape the U.S. Farm Belt by planting more corn and less soybeans next year over a land mass potentially equal to the size of Connecticut."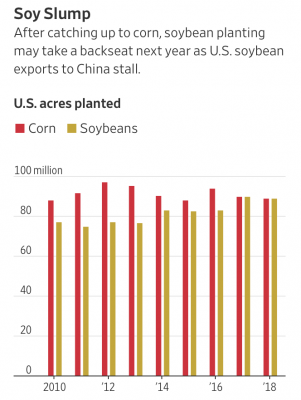 "U.S. farmers in 2018 planted more soybeans than corn for the first time in more than three decades, betting on that demand. But Chinese tariffs on U.S. soybeans have wreaked havoc: U.S. exporters have sold less soybeans to China, typically the largest foreign buyer of the crop, in the past seven weeks than in a single week last fall. Soybeans inspected for export from ports in the Pacific Northwest—a main U.S. originator of soybeans bound for China—recently stood 82% below their year-ago level. Prices for the oilseeds have dropped 11% this year," the Journal article said.
Newman and Bunge added, "Researchers at the University of Illinois estimate that a farmer growing crops on rented land in northern Illinois will lose $64 dollars per acre of corn next year, versus $95 per acre of soybeans. It is the first time since 2013 that corn is projected to be a better economic proposition than soybeans, according to the researchers."
With respect to trade issues and dairy products, Reuters writers Julie Ingwersen and Rod Nickel reported Thursday that, "The dairy industry was a sticking point in the contentious renegotiations of the free trade deal between the U.S., Canada and Mexico that concluded last month."
However, the article noted that, "But Canada opened less than 4 percent of its dairy market to U.S. farmers – a concessions unlikely to make much of a dent in U.S. oversupply or improve the lot of farmers such as [Paul Fritsche, of Minnesota], producers on both sides of the border say."
In addition, Reuters writer Humeyra Pamuk reported last week that, "U.S. milk producers asked the government to increase aid payments to the industry to offset losses from foreign tariffs, saying dairy farmers have lost more than $1 billion in income since May."
The article pointed out that, "Dairy farmers have received $127 million in government aid in compensation, a fraction of the sector's tariff-related losses to date, the National Milk Producers Association (NMPF), which represents the majority of the country's milk industry, said in a letter to Secretary of Agriculture Sonny Perdue dated Oct. 24."
Regarding the pork sector, Reuters writers Tom Polansek, Hallie Gu, and Ana Mano reported last week that, "The dueling salvos of the U.S.-China trade war are landing particularly hard on the pork industries of both nations – and spraying shrapnel that has damaged other major pork exporters such as Brazil, Canada and top European producers. In contrast to many industries that trade war has divided into winners and losers, the world's pork farmers and processors are almost universally shedding profits and jobs from a crippling combination of rising feed costs and sinking pig prices."
"The key reason: The trade war came at precisely the wrong time, after a worldwide expansion to record pork production levels on the expectation of rising meat demand and low feed prices from a global grains glut."
Administration Trade Perspective
Axios News reported last week that, "President Trump has no intention of easing his tariffs on China, according to three sources with knowledge of his private conversations. Instead, these sources say he wants the Chinese leaders to feel more pain from his tariffs — which he believes need more time to fully kick in."
Financial Times writers James Politi, Gillian Tett and Sam Fleming reported last week that, "The White House's top economic adviser has accused Beijing of doing 'nothing' to defuse trade tensions ahead of a likely meeting between Donald Trump and Xi Jinping at the G20 in Argentina next month, damping expectations of a truce in the economic warfare between the US and China.
"In an interview with the Financial Times, Larry Kudlow, director of the National Economic Council, said China had offered no sign that it was willing to meet US demands in a way that could lead to a breakthrough between the countries."
Wall Street Journal writers Bob Davis and Lingling Wei reported on Thursday that, "The U.S. is refusing to resume trade negotiations with China until Beijing comes up with a concrete proposal to address Washington's complaints about forced technology transfers and other economic issues, officials on both sides of the Pacific said.
"The impasse threatens to undermine a meeting between President Trump and President Xi Jinping of China that is scheduled for the end of November at the Group of 20 leaders summit in Buenos Aires."
In more specific perspective from USDA, Ben Zigterman reported last week at The News-Gazette (Champaign, Il.) Online that, "In a visit to a Champaign farm Wednesday, U.S. Secretary of Agriculture Sonny Perdue said ending the trade war will depend on China."
'When China decides they want to play fair, play by the rules, we're ready to trade with them any day,' Perdue said Wednesday.
And on the prospect of trade mitigation payments for 2019, Bloomberg writer Mario Parker reported last week that, "The Trump administration has no plans to extend aid to farmers in 2019 on the assumption that the market will recover even if the trade war with China persists, U.S. Agriculture Secretary Sonny Perdue said."
"The trade war impacted 'farmers after they made planting decisions for 2018,' Perdue said. 'The market will equilibriate over a period of time. There's not an expected or anticipated market facilitation program for 2019.'"