COVID-19 Effects Persist: Decline in Farm Income Seen, Processing Disruptions Continue, Phase One Trade
COVID-19 Impacts- Farm Income, Meat Processing
DTN Ag Policy Editor Chris Clayton reported this week that, "An updated economic analysis looking at the impact of COVID-19 projects crop farmers to see $11.85 billion in lower revenue in 2020 and all livestock sectors combined to see a $20.24 billion drop in receipts for the year.
"The early partial analysis by the University of Missouri's Food & Agricultural Policy Research Institute (FAPRI) shows a potential overall $32.09 billion drop in cash receipts for crops and livestock. That leads to net farm income for 2020 dropping by $20 billion once lower input prices and higher government payments are included in the analysis.
"Looking at the 2020-21 crops, FAPRI is projecting a 5% to 10% drop in grain and oilseed prices. FAPRI also sees an 8% to 12% drop in livestock prices for 2020."
The DTN article indicated that, "Looking at the FAPRI estimates by commodity:
"– CORN: The FAPRI move shifts corn from a baseline price of $3.70 a bushel to a 2020-21 projection of $3.35 a bushel. USDA in February — before the country effectively shut down — put the average corn price for the 2020-21 crop at $3.60 a bushel.
"FAPRI pointed out the corn price decline was largely tied to a reduction in ethanol production. USDA last week lowered corn for ethanol use by 375 million bushels last week. FAPRI forecasts roughly a 1.4-billion-gallon reduction in ethanol production for 2020.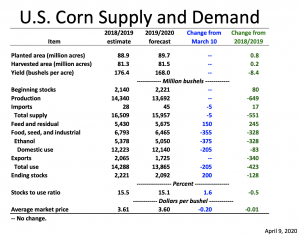 "– SOYBEANS: FAPRI drops the 2020-21 soybean price baseline from $8.85 a bushel to $8.27 a bushel. USDA in February had projected an average $8.80 a bushel price."
Also this week, Bloomberg writer Vincent Del Giudice reported that, "JBS SA, the world's top meat company, will shutter its beef facility in Greeley, Colorado, through April 24 amid an outbreak of the coronavirus among plant employees and neighboring communities.
"The Greeley facility will wind down operations over the next two days with a diminished staff to ensure existing product in the facility can be used to support food supply needs, the company said in a statement on Monday. The move comes after union officials reported that at least 50 people employed at the plant in Colorado's Weld County tested positive for the virus, with two employee deaths reported from complications related to Covid-19."
And Bloomberg writers Michael Hirtzer and Isis Almeida reported this week that, "On Sunday, one of America's largest pork slaughterhouses shut down after more than 200 workers tested positive for the coronavirus. A day later, a massive beef-processing plant in Colorado announced it's winding down operations.
"In Canada at least five meat plants have halted operations since the end of March. And most companies haven't said exactly when they'll reopen."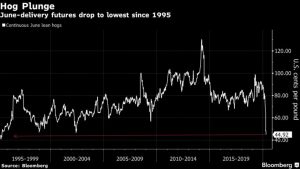 The Bloomberg article noted that, "While frozen stockpiles are high, the slaughterhouse interruptions come at a time of unprecedented disruptions along the supply chain as companies try to shift their production lines to supply supermarkets instead of restaurants. If more plants shut, fresh-meat shortages may start to appear as stocks run down."
COVID-19 Noted in Context of China- Phase One Trade Deal
Meanwhile, Bloomberg News reported this week that, "China's ambassador to the U.S. said his country is still implementing the first phase of a trade agreement signed with the U.S. earlier this year and called for both nations to assess the changing situation as the coronavirus presents global economic challenges.
"'Even for the last few weeks, when we are faced with this very serious, critical situation, people are still working on the implementation of this phase one deal,' Ambassador Cui Tiankai said in an interview with Eurasia Group's Ian Bremmer on broadcast show Gzero World on April 3, according to transcript posted on the Chinese embassy's website on Sunday."
The Bloomberg article stated that,
The ambassador agreed with Bremmer that the global economic landscape has been drastically changed by Covid-19. 'So I just hope our two economic teams, if they can sit down together or just have a conference call, they can really make good assessment of the changing realities and coordinate our response to that,' Cui said in the interview.
And Reuters writers Samuel Shen, Winni Zhou and Brenda Goh reported this week that, "China is still implementing the first phase of a Sino-U.S. trade pact, its ambassador to the United States said, but hoped the two could work together to assess the changing situation and coordinate their response, the Global Times said on Sunday."
A CNN News article late last month reported that, "As coronavirus cases in the US surge, President Donald Trump isn't focused just on those statistics, administration officials say, but is also watching another set of numbers: exports to China.
"The President gets regular briefings on agriculture sales to China and monitors those figures almost as closely as his White House pandemic team tracks statistics on the coronavirus…"
Recall that back in early February, White House economic adviser Larry Kudlow indicated that, although there might be some delays, the Chinese purchase goals in the Phase One deal would be met.
Meanwhile, Reuters writers Gabriel Crossley and Hallie Gu reported this week that, "China brought in 35.56 billion yuan ($5.05 billion) worth of farm goods from the United States in the first three months of 2020, up 110% from last year, according to customs data.
"China has committed to buy additional purchases of U.S. agriculture products totalling $32 billion over two years, under the Phase 1 trade deal."
The Reuters article added that, "China brought in 7.81 million tonnes of soybeans from the U.S. in the first quarter of 2020, worth 21.88 billion yuan, up 210% from last year, according to data from the General Administration of Customs.
"Shipments of U.S. pork to China during the first quarter were 168,000 tonnes, up 640% from the previous year. The value of the cargoes increased by 17 times to 3.04 billion yuan."
And Reuters writers Gabriel Crossley and Stella Qiu reported this week that, "China's trade showed some signs of recovery in March as domestic demand returns to normal, but difficulties facing foreign trade cannot be underestimated, the customs said on Tuesday.
Asked about the implementation of the phase 1 trade deal with the United States, customs spokesman Li Kuiwen told a news conference that imports of agricultural producers were increasing.
"But Li added that the negative impact from the coronavirus outbreak cannot be ignored."