Supply Chain Woes Persist After Trump Executive Order, as COVID-19 Impacts Endure
Michael Corkery, David Yaffe-Bellany and Ana Swanson reported in Thursday's New York Times that, "Ever since slaughterhouses became coronavirus hot spots, the meat industry has been asking the Trump administration for help."
The Times article explained that, "On Tuesday, President Trump finally gave the meat companies what they were looking for — a broad declaration that the slaughtering and processing of beef, chicken and pork is a 'critical infrastructure' and that federal agencies would now set the criteria for ensuring workers' safety amid the pandemic."
The executive order, which allows the Department of Agriculture to invoke the Defense Production Act, does not explicitly mandate that plants stay open, but it signals that the decisions around whether to close or reopen a plant should be driven by the federal government, not local authorities.
Associated Press writer Stephen Groves reported on Wednesday that, "Trump, who consulted with industry leaders before issuing the order, said it would relieve 'bottlenecks' that the largest companies faced after workers fell ill and some died."
The Wall Street Journal editorial board pointed out in Thursday's paper that, "[Pres. Trump's executive] order pre-empts local officials who have ordered plants shut because they are afraid workers will spread the coronavirus."
And the editorial board at The Washington Post cautioned on Thursday that, "There is the promise — from both administration officials and those in the meat industry — of additional protections for workers in the way of protective gear and workplace guidelines. But given the realities of these giant meat-processing plants — in which workers are jammed together in shoulder-to-shoulder processing lines — the industry's poor track record in looking out for its workers, and lax regulation from the Trump administration, there is reason for concern."
Bloomberg writer Justin Sink reported on Wednesday that, "President Donald Trump said his administration is preparing a report on how to protect workers in meat plants a day after signing an executive order that compels slaughterhouses to remain open."
More broadly, Bloomberg writers Michael Hirtzer and Lydia Mulvany reported on Wednesday that,
A day after Donald Trump's unprecedented executive order to keep meat plants running, one more shut down. Another opened back up — but only to cull animals that can't be processed. Those are the latest indications that the sweeping order is anything but a quick fix for supply-chain woes.
"Tyson Foods Inc., the biggest U.S. meat processor, late on Wednesday said it was idling a beef facility in Nebraska for four days, with the news hitting just about 24 hours after Trump invoked the Defense Production Act to keep meat supplies secure. A JBS SA plant in Minnesota is starting a mass culling operation, destroying hogs that it can't process into pork cuts until it's able to get the protective equipment needed to restart."
The Bloomberg article noted that, "Trump's order is not only aimed at helping farmers find buyers for their animals, but also making sure nervous stay-at-home consumers are supplied with affordable beef and pork.
"On Wednesday, wholesale American beef jumped 8% to a record $357.38 per 100 pounds, up 75% from a low in February, according to U.S. Department of Agriculture data. Pork prices gained 2.5% to the highest since 2017."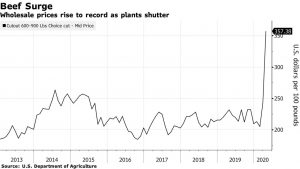 In additional perspective, Bloomberg writer Jen Skerritt reported on Wednesday that, "President Donald Trump's plan to keep U.S. meat plants running was an attempt at preserving the nation's food supply. He might actually end up doing the opposite, labor unions warned.
"More workers may be exposed to the coronavirus pandemic as a result of Trump's executive order requiring plants to remain open, leaving the industry short-handed and struggling to run at full capacity. That only stands to raise the odds that America's meat supplies will get squeezed, the unions said."
Kris Maher, Jacob Bunge and Alexandra Berzon reported in Thursday's Wall Street Journal that, "Meatpacking giants including Smithfield, Tyson Foods Inc., Cargill Inc. and JBS USA Holdings Inc., owned by Brazilian meat conglomerate JBS SA, have installed plastic shields between processing line employees to prevent the virus' spread, while staggering break times and setting up tents to provide extra space between workers at lunch. Many are providing masks and other protective gear, and taking employees' temperatures when they show up for their shifts."
Also this week, Glynn Tonsor, Lee Schulz and Jayson Lusk, three land grant University agricultural economists, indicated in a paper ("Meat Availability and Shortages Overview") that, "It is useful to directly clarify there is no shortage of livestock, but rather a monumental challenge is presented by COVID-19 in converting livestock into consumable products. The temporary closure and slowdown of meat packing plants, at a time when plants were running near capacity, has caused a 'bottleneck' in the U.S. livestock-meat supply chain and impacted meat packing plants ability to receive livestock and begin the process of transforming animals into a wide array of meat products. Challenges with sustaining a complete, healthy, and available workforce in these plants is creating a backlog of livestock and reduction in the amount of meat available. There is typically at least a 2- week lag between changes at the animal harvest and wholesale level to the final, consumer level.
"At the same time, the distribution and transportation system that is in place to take meat from packers to retailers is suffering from labor and logistical challenges. Retail grocery sales are planned many weeks in advance, not only for advertising schedules, but to ensure logistics of product supply. Since March disruptions and stress on the wholesale to retail meat supply chain has occurred because of consumption changes associated with requirements to control COVID-19. The issues are due to the tremendous logistical challenges of shifting meat supplies from food away from home channels to retail grocery channels."
The economists added that, "It is critical for consumers to know that there is no shortage of livestock available for meat production in the United States. Production of beef, pork and poultry are projected at record levels in 2020 and were at record levels in the first quarter of 2020. Production of all red meat and poultry is projected at 108.3 billion pounds in 2020, up 2.9% compared to 2019 according to the April USDA World Agricultural Supply and Demand Estimates. Total red meat and poultry production in the first quarter of 2020 was estimated at 27.1 billion pounds, up 7.1% year over year. While COVID-19 is changing how and where meat consumption occurs and is temporarily overwhelming certain supply chains, supplies of all meats are relatively assured on balance in 2020."
Other negative impacts of the COVID-19 outbreak persist in some agricultural markets.
Bloomberg writer Isis Almeida reported on Wednesday that, "The coronavirus pandemic keeping cars off the roads and shutting down America's meat plants is clouding the outlook for some of the world's largest agricultural commodities traders.
"That's because the fallout of the deadly virus is creating a domino effect, hitting everything from corn to soybeans. With drivers off the roads, corn demand to make ethanol has plunged, while U.S. meat-plant shutdowns are forcing farmers to cull their animals, which erodes demand for feed inputs like soy."
The Bloomberg article added that, "The ripple effects of the virus are becoming clearer. Ethanol production — which accounts for about a third of the U.S. corn crop — has fallen to a record low. Margins were already negative before the virus spread and a price war between Russia and Saudi Arabia sent crude markets into meltdown.
"Companies from crop trader Andersons Inc. to oil refiners such as Valero Energy Corp. are slowing or idling ethanol plants. ADM said it's temporarily halting production at its corn dry mill facilities in Iowa and Nebraska — the same mills it's been trying to sell and are expected to report as a standalone unit for the first time."
"As plants close, farmers lacking barn space are forced to kill their animals. About 160,000 hogs a day nationwide have to be euthanized, according to U.S. Representative Collin Peterson from Minnesota. Fewer animals will reduce the need for soybean meal, a key ingredient in rations. That's already evident as profits for bean processing have fallen to a six-month low," the Bloomberg article said.