Senate Ag Committee Confirmation Hearing: USDA Nominee Sonny Perdue
Yesterday, the Senate Ag Committee held a hearing to consider the nomination of Sonny Perdue to be Secretary of Agriculture.  Issues associated with the Trump Administration's proposed USDA budget cuts, trade policy, and labor were among the topics discussed at yesterday's meeting.
Committee Chairman Pat Roberts (R., Kans.) noted at yesterday's hearing that, "During this critical time, the importance of trade for the agriculture industry cannot be overstated…[N]ow, more than ever, agriculture needs a voice—an advocate—at the highest levels of government. And, Governor Perdue has been nominated to serve in exactly that role."
Ranking Member Debbie Stabenow (D., Mich.) indicated yesterday that, "An Agriculture Secretary will need to look past regional divides or partisan pressures to support all farmers, all families and all rural communities.
"And right now, we need an advocate to stand up for them in this administration."
Sen. Stabenow added that:
During the first two months of the Administration, it's clear that rural America has been an afterthought.  Even before President Trump took office, he sent a message by waiting until the last minute to name his pick for Agriculture Secretary…Under President Trump's budget, important resources for farmers and families are facing cuts averaging 33%.
Wall Street Journal writer Jacob Bunge reported yesterday that, "The Trump administration's nominee to head the U.S. Department of Agriculture told Senators on Thursday that the federal regulator will need to function more efficiently to cope with a smaller budget proposed by the president.
"Sonny Perdue said during his confirmation hearing that he had 'some concern' about President Trump's proposal to cut the USDA's discretionary budget by one-fifth, to its lowest level since 1988. But he said Georgia did 'more with less' when he was Georgia's governor and that U.S. taxpayers should expect the USDA and other federal agencies to run efficiently."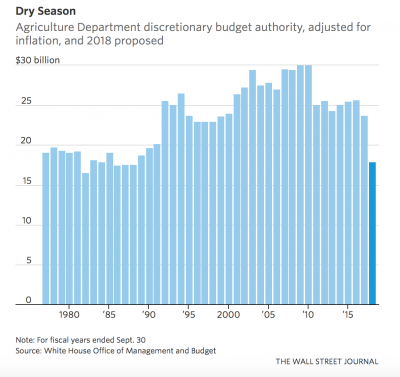 Mr. Bunge explained that, "If confirmed to lead the USDA, Mr. Perdue will inherit a sector in turmoil. A series of bumper crops around the world have led to massive supplies of foodstuffs from wheat to beef and butter, sinking prices for farmers and ranchers. U.S. farm incomes are on track to decline for a fourth straight year, falling to about half the record $123 billion farmers earned in 2013.
"He will also need to navigate a planned overhaul in U.S. trade policy, critical to an industry that produces far more food than can be consumed by Americans and has come to rely heavily on sales to foreign countries."
Recall that President Trump has indicated that he will be renegotiating the North American Free Trade Agreement, and has also withdrew from the Trans-Pacific Partnership.
The Journal article added that, "Mr. Perdue took many questions related to trade, and he said he's already discussed with Commerce Secretary Wilbur Ross and other administration officials the importance of trade to the U.S. farm sector. 'Food is noble to trade,' he said."
Associated Press writer Mary Clare Jalonick reported yesterday that, "[Mr. Perdue] told Republican and Democratic senators concerned about Trump's trade agenda that 'trade is really the answer' for farmers dealing with low crop prices and said he would be a 'tenacious advocate and fighter' for rural America when dealing with the White House and other agencies."
Jose A. DelReal reported yesterday at The Washington Post Online that, "Responding to questions from Sens. Kristen Gilibrand (D-N.Y.) and Pat Leahy (D-Vermont), Perdue said he would advocate for laws that would allow the dairy industry to use immigrant labor year-round instead of seasonally." (See the short video clip above for greater detail).
And, Tamar Hallerman reported yesterday at the Atlanta Journal Constitution Politics Blog that, "…[S]enators did not spend any time probing Perdue's Georgia record or his finances, despite some recent attention in the national media.
"Stabenow told reporters following the hearing that she had been planning to ask Perdue about such topics in a second round of questions but that a Senate vote had cut the hearing short.
"'Given the situation with the votes on the floor, I will raise those for the record and have raised those with him privately,' Stabenow said. She added, 'After looking at everything, my feeling is that he answered the questions. He's resolved issues on conflict of interest and has addressed other issues.'"
Ms. Hallerman added that, "Agriculture chairman Pat Roberts was complimentary about Perdue's performance after the hearing and said he would look to advance his nomination through the committee 'as soon as possible.'
"'Welcome to a nominee who not only knows agriculture, but cares about it,' the Kansas Republican told reporters. 'We have told the leadership that we'd like to move him as soon as possible and the leadership has agreed.'
"With the Senate on recess the weeks of April 10 and 17th, it's possible the chamber may not have time to confirm him before they leave."