Senate Farm Bill Conservation Hearing- Conservation Reserve Program
On Thursday, the Senate Agriculture Committee held a Farm Bill hearing that focused on conservation and forestry issues.  This follows previous Farm Bill field hearings in both Kansas and Michigan, as well as Committee meetings on the farm economy and agricultural research.  Today's update highlights issues associated with the Conservation Reserve Program, a subject that lawmakers discussed in some detail at last week's hearing.
Background
In her prepared testimony, Misty Jones, the Director of Conservation and Environmental Programs Division at USDA's Farm Service Agency, indicated that, "The Conservation Reserve Program (CRP) first appeared in the 1985 Farm Bill and is one of USDA's largest conservation programs. CRP allows USDA to contract with landowners so that environmentally sensitive land can be devoted to conservation benefits. Participants establish long-term, resource-conserving cover and, in return, FSA provides participants with annual rental and other assistance. Contract duration is between 10 and 15 years. CRP improves water quality, reduces soil erosion, and restores habitat for pollinators, ducks, pheasants, turkey, quail, deer and other wildlife. In doing so, CRP spurs hunting, fishing, recreation, tourism, and other economic activity across rural America."
Ms. Jones added that, "Largely due to lower commodity prices and the CRP cap, landowner demand and competition for program entry has been strong and increasing, having a particularly large impact on General sign-up acceptance rates. The FY 2016 General sign-up accepted only 400,000 acres. With 1.9 million acres offered, the overall acceptance rate was 22 percent. Landowners compete against one another for General enrollment entry based on relative 'environmental benefits index' (EBI) scores, and those with lower scores were unlikely to be accepted given the acreage cap. In South Dakota, for example, where the average EBI score was 215, the acceptance rate was less than 1 percent. In contrast, in Iowa, with an average EBI score of 251, the acceptance rate was 15 percent."
CRP Rental Rates
Committee Chairman Pat Roberts (R., Kans.) queried the first panel of witnesses about CRP rental rates and asked the following question on Thursday: "Ms. Jones, for the Conservation Reserve Program, I have been hearing several ideas from various groups about the future direction of CRP. It's a pretty hot item right now in farm country. One area of interest for CRP is rental rates. Can you discuss the current policy on how the FSA develops rental rates?"
Ms. Jones explained that, "Thank you for the question, Mr. Chairman. Currently we base our rental rates on NASS' cash rental rates survey, which is conducted at least every other year under the 2014 Farm Bill. Rates were most recently updated in 2015. The survey was conducted annually from 2008 to 2014, as required by the 2008 Farm Bill.
"The 2014 Farm Bill, however, provided the option of conducting the survey every other year. NASS conducted the survey in 2014 and '16, and FSA is currently using 2016 survey data to examine soil rental rates, and plans to adjust them to be effective for October 1, 2017.
"Once a contract is approved, the rental rate is held constant for the length of the contract. FSA state offices will be allowed to provide justifications for alternative rates [to] the NASS survey results.
Our rates are set to follow the market rather than set the market. We are currently reviewing rates within our county office system, and we will work through a rigorous process in order to establish them as closely as possible to the cash rent rates that are in the local areas.
More specifically on this issue, Iowa GOP Senator Joni Ernst indicated at the hearing: "I'd like to start by sharing a story from one of my constituents. It's a story from Mike Kelly, who is a fifth generation farmer from Monona County, Iowa. And he wrote me in January to tell me about how some of the very productive farm ground that he cash rents was outbid by conservation programs, and in one instance he was outbid by over $100 per acre by the government.
"The same thing happened to one of his sons in 2016, who lost 80 acres of land to a pollinator program where he had recently installed a center pivot irrigation system. To quote from his letter, 'never in my 30 plus years of farming did I feel the government was going to be a threat to me and my young son's farm operation.' And Mr. Chair, I would like to submit his letter for the record."
Sen. Ernst continued, stating that:
I have heard similar stories from across Iowa about CRP outbidding cash rents on productive farm ground, and it greatly concerns me and many others in the state of Iowa.
"We have a lot of producers who are participating in important voluntary conservation efforts targeted at marginal lands to protect soil health and water quality, but it appears the current structure of some of these programs has misaligned incentives.
"For Miss Jones and [Jimmy Bramblett, Deputy Chief for Programs, USDA's Natural Resources Conservation Service (NRCS)] please, in your opinion, is idling whole farms through CRP the best use of taxpayer dollars in the tight budget climate, or would we be better served focusing those dollars on marginal lands that could have the biggest bang for our taxpayers' bucks through the working lands programs? And Miss Jones, if you would start, please."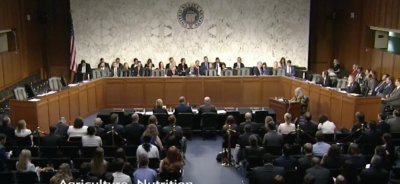 Ms. Jones explained that, "We offer a range of opportunities to our producers. Through our general signup we allow it to be a competitive process where they come in and they are scored on their environmental benefits. We generally see larger tracts of land, more whole fields in that regard.
"But we also have our continuous practices which are smaller. They are highly incentivized in order to make the opportunity there for the farmer to invest and put those conservation practices in place. We support both sides of conservation in order to make it work for the farmers."
Sen. Ernst followed up by saying, "The concern with the CRP program is that we are seeing more and more acres of highly productive land that is farmable and not a threat to really any erosion. The original intent of the CRP program was to protect those marginal lands, and we see more and more producers, especially those that are maybe older, wanting to retire, taking those acres out of production. And that's a threat to some of our younger farmers or those that are wanting to engage in farming activities. I do think there are ways to fix the program, and we need to focus on those marginal lands rather than highly productive acres."
CRP – Drought Issues
DTN writer Todd Neeley reported on Thursday that, "Federal lawmakers may need to look no further than expanding drought conditions in South Dakota, North Dakota and Montana to understand how important the Conservation Reserve Program is to farmers and ranchers.
"The expanding drought in those states and how the CRP fits in to help producers meet growing needs for hay took center stage Thursday during a U.S. Senate Agriculture, Nutrition and Forestry Committee hearing on conservation's role in the 2018 farm bill.
"In recent weeks, USDA took actions to allow emergency grazing on CRP land in those states."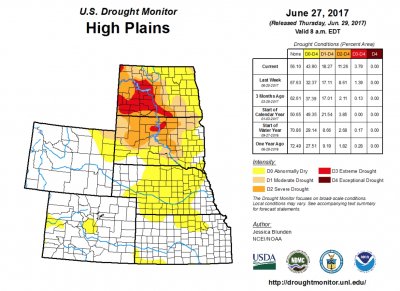 On June 23rd, USDA indicated in a news release that, "Secretary of Agriculture Sonny Perdue today authorized emergency grazing on Conservation Reserve Program (CRP) lands in Montana, North Dakota and South Dakota.  All or parts of these states are experiencing severe or extreme drought conditions – indicated as categories D2 and D3 on the U.S. Drought Monitor."
And on Thursday, USDA followed up on this initial action and indicated that, "On June 23 Secretary of Agriculture Sonny Perdue authorized emergency grazing of Conservation Reserve Program (CRP) acres during the primary nesting season in North Dakota, South Dakota, and Montana in the counties meeting D2 or greater, as indicated by the US Drought Monitor. Since that time the drought has continued to deepen and the forecast is for hot, dry weather in the upcoming week in the northern plains. As such, the Secretary is authorizing emergency grazing of CRP for any county in which any part of its border lies within 150 miles of a county approved for emergency grazing of CRP.
"In addition, for any county in which any part of its border lies within 150 miles of any county approved for emergency grazing of CRP, USDA will allow CRP contract holders who hay their acreage according to their mid-management conservation plan to donate their hay to livestock producers. CRP contract holders still have the ability to sell their hay with a 25-percent reduction in their annual rental payment as they've been fully authorized to do in the past."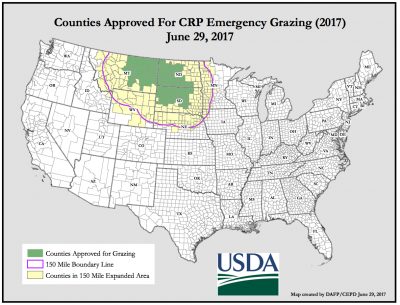 In his DTN article, Todd Neeley noted that, "Sen. John Thune, R-S.D., told a panel of USDA representatives on Thursday that, though the help is much appreciated, farmers and ranchers in those areas need more.
"'Only 9% of South Dakota is not suffering from drought,' he said. 'That shows how important the CRP is. So much more needs to be done. USDA opening additional counties for emergency grazing helps. I would ask that you do as much as you can to provide additional assistance. There are going to be real, serious hay and feed shortages out there.'"
I will continue to push USDA to ensure it's doing all it can to assist S.D.'s producers during this drought. https://t.co/aGNG8uKLLn

— Senator John Thune (@SenJohnThune) June 30, 2017
The DTN article also quoted Sen. Heidi Heitkamp (D., N.D.), who stated at Thursday's hearing that, "I don't know how it can get much worse for ranchers out there.  I urge you to go to the limit."