Farm Bill Signed, SNAP Proposal Released, and Trade Aid Payments Approved
President Trump signed the Farm Bill into law on Thursday, the same day the executive branch proposed a rule that could impact participation in the SNAP (food stamp) program.  And earlier this week, USDA announced that a second installment of payments would be made to some producers negatively impacted by ongoing trade disputes.
Farm Bill Signed
President Trump signed the Farm Bill into law on Thursday.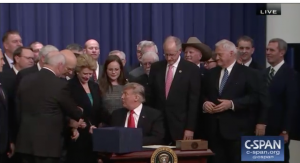 After the signing, House Agriculture Committee Chairman K. Michael Conaway (R., Tex) stated that, "With President Trump signing the farm bill today, America keeps faith with those hard-working farm and ranch families who put food on our tables and clothes on our backs. Because of the support of the president, Sec. Perdue and a Republican Congress, we were able to deliver a new farm bill in the same year that the legislation was first introduced, which marks a first in nearly 30 years. I'm proud of this bill and I'm honored to have served as chairman throughout this process. I'm thankful to all those who worked to help make today's enactment of the farm bill possible."
Also on Thursday, Secretary of Agriculture Sonny Perdue stated that, "This is a great day for our farmers, ranchers, foresters, and producers, as President Trump's signature on this bill is a Christmas present to American agriculture. Farmers take financial risks every year as a matter of doing business, so having a Farm Bill in place gives them peace of mind to make their decisions for the future. Since early talks on this Farm Bill began back in 2017, I've always believed it would be more evolutionary, rather than revolutionary, and that has borne out to be true."
Farm Bill Timeline:
Farm Bill- SNAP Proposal
Washington Post writers Danielle Paquette and Jeff Stein reported Thursday that, "The Trump administration unveiled a plan Thursday to force hundreds of thousands more Americans to hold jobs if they want to keep receiving food stamps, pursuing through executive powers what it could not achieve in Congress.
"The country's food assistance program, which is run by the U.S. Department of Agriculture, already requires most adults without dependents to work if they collect food stamps for more than three months in a three-year period. But USDA regulations allow states to waive the requirement in areas with unemployment rates that are at least 20 percent greater than the national rate.
The USDA is now proposing that states could waive the requirement only in areas where unemployment is above 7 percent. The current national unemployment rate stands at 3.7 percent.
The Post writers pointed out that, "Approximately 2.8 million able-bodied recipients without children or an ailing person in their care were not working in 2016, according to the USDA's latest numbers. Roughly 755,000 live in areas that stand to lose the waivers."
DTN Ag Policy Editor Chris Clayton reported Thursday that, "USDA states there are 3.8 million ABAWDs [able-bodied adults without dependents] on food aid, of which 2.8 million, or about 74%, are not working or undergoing some form of job-training program.
"The cost savings announced by USDA — $15 billion — is significant because of the long-term math. If there are 3.8 million ABAWDs, they receive an average benefit of $126 a month, or $1,513 a year. That amounts to about $580 million a year. So if all 3.8 million people stopped taking SNAP that would generate about $5.8 billion in savings over 10 years. But USDA states its plan would save nearly three times more than that amount.
"A USDA spokesman responded to DTN that USDA estimates that the proposal reduces spending on SNAP benefits by $15 billion over the years FY 2020-2029 because changes in the waiver standards will increase the number of ABAWDs subject to time limits (because they have not met work or training requirements). When the rule is published, the Regulatory Impact Analysis (RIA) will reflect a five-year cost estimate (FY 2020-2024), with a savings of $7.9 billion. Both numbers reflect the same regulatory changes but over different time frames."
And Associated Press writer Juliet Linderman reported Thursday that, "The Trump administration's effort, while celebrated by some conservatives, has been met with criticism from advocates who say tightening restrictions will result in more vulnerable Americans, including children, going hungry."
Trade Aid Payments
Wall Street Journal writer Jacob Bunge reported Monday that, "The U.S. government will make a second, multibillion dollar payment to U.S. farmers struggling against tariffs on American soybeans, pork and dairy products.
"The move soothed nerves in the U.S. Farm Belt, after some farmers wondered whether the payments would come as trade relations improved between the U.S. and top food-importing countries Mexico and China. Despite a new North American free trade deal signed in November and this month's trade truce between the U.S. and China, farmers and livestock producers continue to face low prices for many of their goods, pushed down by tariffs that remain in effect.
"'This assistance will help with short-term cash flow issues as we move into the new year,' said Agriculture Secretary Sonny Perdue."
However, Mr. Perdue also called it the final round of trade-related government payments to farmers.
Mr. Bunge pointed out that, "The U.S. Department of Agriculture estimated Monday that both rounds of payments would direct a total of $9.6 billion to farmers hit by tariffs on everything from pork chops to soybeans and cheese. The U.S. agricultural sector was already grappling with low prices for crops, poultry and livestock, thanks to a five-year run of bumper crops that helped fuel rapid expansion in the meat industry. The USDA expects net farm income to drop 12% this year to $66.3 billion, about half the high the sector reached five years ago."
DTN Ag Policy Editor Chris Clayton reported on Monday that, "Farmers who grow commodity crops will collect a second payment based on their 2018 production. But USDA did not make any changes to the payment rate that had led to complaints by some commodity organizations, including the National Corn Growers Association, because corn farmers received 1 cent per bushel of trade mitigation payments."
Mr. Clayton explained that, "Sign-up for the MFP began in September and goes through Jan. 15, 2019. Farmers must fill out an application by Jan. 15, but they have until May 1, 2019, to certify their 2018 production. Payments are based on reported production and are projected to top $9.57 billion."
And Reuters writers Doina Chiacu, Humeyra Pamuk and Tom Polansek reported on Monday that, "Farmers hailed Trump's decision to proceed with the payments. 'They are a significant help as we continue to deal with low prices,' said Kirk Leeds, chief executive of the Iowa Soybean Association. 'It has been a tough year for U.S. soybean farmers.'
"The USDA expects direct payments to farmers under the program to total $9.567 billion, with around $7.3 billion for soybean farmers, the hardest hit from the trade war. The USDA program includes an additional $1.2 billion in food purchases, and around $200 million to develop foreign markets, bringing the total estimated aid to just below $11 billion."